Ukraine crisis: Russian military attache held for 'spying'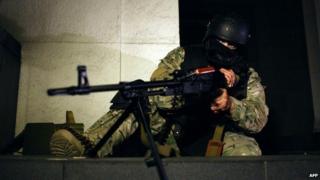 A Russian military attache has been held in Ukraine on suspicion of spying and ordered to leave the country.
The attache - who was not named - had been engaged in activities "not in accordance with his diplomatic status", Ukraine's foreign ministry said.
Kiev and the West accuse Russia of stoking a separatist unrest in eastern Ukraine - a claim Moscow denies.
In the eastern town of Donetsk on Thursday, pro-Russian activists tried to storm the prosecutor's office.
Riot police inside the building responded with tear gas and stun grenades.
Also in the Donetsk region, activists from the self-proclaimed Donetsk People's Republic seized the town council of Amvrosiyivka, local media reports said.
In a separate development, German Chancellor Angela Merkel asked Russia to help free foreign monitors held in east Ukraine.
The military observers were seized by pro-Russia separatists at a checkpoint in the flashpoint town of Sloviansk last Friday.
On Wednesday, the International Monetary Fund (IMF) approved a $17.1bn (£10.1bn) loan for Ukraine's beleaguered economy.
The bailout money is dependent on strict economic reforms, including raising taxes and energy prices.
'Full combat alert'
A spokesman for the Ukrainian foreign ministry confirmed to the BBC that the Russian attache had been detained on Wednesday and declared "persona non grata".
The spokesman declined to provide any further details.
The Kremlin has so far made no public comment on the issue.
This comes amid growing tensions between Kiev and Moscow, as armed pro-Russian gunmen continue to hold a number of government buildings in the eastern Donetsk and Luhansk regions.
On Wednesday, Ukraine's acting President Olexandr Turchynov admitted that his forces were "helpless" to quell the unrest, saying the goal was now to prevent it from spreading.
Mr Turchynov also said Ukraine was on "full combat alert", amid fears that Russian troops could invade.
Some 40,000 Russian troops are stationed close to the Ukrainian border. Moscow has warned that its soldiers will act if Russian interests in eastern Ukraine - where a majority of the population are Russian-speaking - are threatened.
The US and EU have accused Russia of failing to implement the terms of last month's deal agreed in Geneva aimed at defusing the crisis by disarming illegal militias.
They have both stepped up sanctions against Russia this week, naming more individuals and companies facing travel bans and asset freezes.
The sanctions were initially imposed after Russia annexed the Crimea region from Ukraine last month.
The IMF said $100bn (£59bn) would leave Russia this year, partly caused by the sanctions. The fund also warned that Russia was "experiencing recession" because of damage caused by the Ukraine crisis.
The IMF announced its decision on Ukraine on Wednesday.
The bailout would also make available $1bn in loan guarantees from the US, which was recently approved by Congress.
"Today's final approval for the $17bn IMF programme marks a crucial milestone for Ukraine," said US Treasury Secretary Jacob Lew in a statement.
He added that the bailout will "enable Ukraine to build on the progress already achieved to overcome deep-seated economic challenges and help the country return to a path of economic stability and growth".