Belgium ban for 'anti-Semitic' meeting in Anderlecht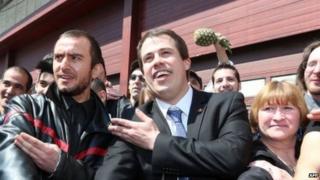 A Belgian mayor has banned a congress that had attracted several figures from the French far right, including controversial comedian Dieudonne.
Opponents have condemned the meeting as "anti-Semitic", and Anderlecht Mayor Eric Tomas said he was banning it to ensure public order.
But organiser Laurent Louis rejected the claim, urging people to come to the venue, where "a surprise" was planned.
The French prime minister has denounced Dieudonne for his "mechanics of hate".
The comic, who has convictions for anti-Jewish hate speech, was due to take part in Mr Louis' "First European congress of dissent".
But the mayor of Anderlecht, an area of the Brussels region, told Belgian radio there was a serious risk to public safety because protesters were thought to be planning to take to the streets against the congress.
The Belgian League against anti-Semitism filed a complaint with the Brussels prosecutor on Friday, condemning "a veritable day of hate".
On Saturday, 19 mayors from the Brussels region met police chiefs to assess the planned meeting.
Writing on his Facebook page, Laurent Louis said it was laughable that his movement "Debout Les Belges!" (Stand up, Belgians!) was seen as anti-Semitic, simply because its members had adopted Dieudonne's trademark "quenelle" gesture.
Described as an inverted Nazi salute, the quenelle is claimed by Dieudonne to be an anti-establishment symbol.
Earlier this year, French footballer Nicolas Anelka was fined and banned by the Football Association for using the sign during a televised match. An independent FA panel decided the gesture was "strongly associated with anti-Semitism".