Vatican: States must tackle child abusers among clergy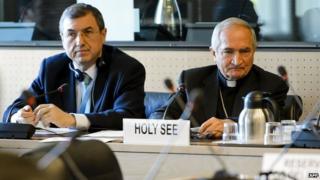 The Vatican has told the United Nations that the Holy See's powers to prosecute abusive priests do not extend beyond the tiny Vatican City state.
"The Holy See has no jurisdiction over every member of the Catholic Church," Archbishop Silvano Tomasi said.
The archbishop, who is the papal envoy to the UN, was speaking in Geneva to the UN Committee against Torture.
Victims of clerical sex abuse argue that the Catholic Church has failed to protect children and shielded abusers.
They also argue that rape and molestation of children come under the terms of the UN Convention against Torture.
It is the second time this year that the Vatican is being scrutinised by the United Nations over its record in dealing with child sex abuse by priests.
Archbishop Tomasi said the Vatican could only apply the UN convention - which it signed in 2002 - inside Vatican City, which has a resident population of less than 1,000.
UN experts challenged that position, alleging it was an attempt to deflect criticism by using excessively legalistic arguments, the BBC's David Willey reports from Rome.
The Vatican will give its response on Tuesday.
Cover-up allegations
In January the UN Committee for the Rights of the Child (CRC) accused the Vatican of fostering impunity for abusive clergy.
Many cases of molestation and rape go back decades and have only come to light recently.
Hundreds of predatory priests have been defrocked, but victims' groups say the Vatican was too slow to act and covered up cases for years.
In Rome last week a new advisory board set up by Pope Francis met for the first time. It aims to improve best practice worldwide for the protection of minors from abusive priests.
The Vatican refused a request from the CRC for data on abuse, on the grounds that it only released such information if requested to do so by another country as part of legal proceedings.