Migrants die as two boats capsize off Greek island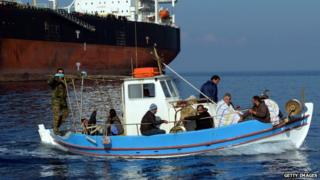 The Greek coastguard say two boats carrying migrants have capsized in the Aegean Sea.
At least 22 people have drowned and another seven are missing.
Thirty-six survivors have been rescued from the sea and the search is continuing, officials say.
Greece is a major entry point for migrants and refugees trying to reach the European Union. Many cross by sea from Turkey, and accidents are frequent.
Correspondents say there has been a sharp increase in sea-borne refugee traffic over the past year because of stricter controls on the Greek-Turkish land border to the north and the ongoing war in Syria.
Overcrowded
The two vessels foundered about four nautical miles off the Greek island of Samos, close to the Turkish coast, on Monday, according to officials.
Authorities say they do not yet know the nationality of the migrants, and the circumstances of the incident are unclear.
Coastguard vessels, fishing boats, two search and rescue helicopters, and a cruise liner have been helping the search for survivors.
Greece, Italy and Malta have repeatedly called on their EU partners to do more to help them handle the large numbers of migrants arriving at their shores.
The boats are usually overcrowded and run through traffickers in Turkey, who charge thousands of dollars for the perilous crossing.
Greece, where reception centres are struggling with the number of arrivals, stepped up security on its land border with Turkey in August 2012.
The EU says it is investing in more sea patrols after more than 400 people drowned in two shipwrecks off the Italian island of Lampedusa last October.
In the past, human rights organisations, including the UN refugee agency UNHCR, have strongly criticised Greece and Italy for "push-backs" - a policy of sending migrants back to their point of departure.
Under international law, groups of migrants are supposed to be checked for legitimate asylum claims.