European elections: Living out of bins in France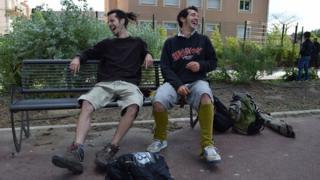 Two bright young Europeans unlikely to be turning out for the elections on 25 May are Hugo and George, who scrape for work and eat out of bins in southern France.
Articulate, dignified and engaging - maybe men of the roads were always like this?
When I see them on an empty avenue in Perpignan on a Saturday afternoon, they are fishing food out of a wheelie bin.
A meagre catch: one bag of corn snacks and a six-pack of yogurts.
Rather than accept my invitation to go to a cafe for a chat, they choose the public benches on the avenue.
It is sunny after all, though windy. The previous night, the wind and the ground were so cold, Hugo could not get to sleep in the tent he and George share with two other twenty-something jobseekers from Spain at a forest campsite in Ceret, 30km (19 miles) from Perpignan.
An Italian by citizenship, George, 23, was born in Serbia and arrived with his parents by bus in Italy as a child, settling in the northern town of Suzzara.
The trained barber went to Spain three years ago on a budget flight from London, where he had saved 1,000 euros (£822; $1,390) for the trip.
The last time he got any work was in 2013.
On a street two years ago in Tarragona, George met Hugo, 26 and from Valencia, who had graduated and worked as a social worker with children before government funds dried up and he lost his job. He had also trained as a lifeguard, and remains fit and lithe.
The two friends discovered they share the same birthday, 18 August.
Oranges and cherries
There are a lot of Italians, Spaniards and Portuguese at the same campsite, mostly men, says Hugo.
He was picking oranges in Spain this winter but the work ended at the beginning of March.
So he and the others piled into an old van and headed north for the cherry season in the countryside near Perpignan. No offers yet.
They have a kitty of 30 euros - emergency petrol money to drive back to Spain if they find no work.
How will they get back to the campsite from Perpignan tonight? Not a problem. If they get stranded, George says, they may spend the night in the first empty house they see.
Their shorts may be grimy, but they keep themselves clean. There are rivers for that, George says, unrolling the bundle of toiletries he keeps in his rucksack so I can see his toothbrush, small tube of toothpaste, deodorant roll and nail clippers.
Do they beg? Not their style, says George, stonily. But they do busk with a guitar and they can juggle. They put on quite a show for me, all the circus poses just right, beaming like two happy little boys.
Would they not be better off trying their luck in Germany or Netherlands? You cannot live on the street in those countries, says George, nor do they have the languages.
George has been to Brussels, by the way. How come? He was in the European Parliament. No really, he was.
For Grillo
It was only for a day as part of a school trip, but he came away with a lasting impression: "Clean, a lot of money, a lot of jobs, but a lot of people sleeping on the streets in Brussels."
If George was back in Italy (it is a year since he has seen his family) he would vote, absolutely. For Beppe Grillo and the Five Star Movement, the new party which rocked the established parties at last year's national elections.
Why? "Because I want to kick all the old politicians into the street. I remember when there was work in Italy and now I see the crisis."
"Politicians get their salaries and for them, the crisis doesn't exist," he adds.
Hugo would vote for nobody. "All politicians in Spain are only interested in people with money - not the people of the streets," he says.
He has a great smile, straight out of a Velasquez painting. He talks the less, and looks the stronger and healthier of the two friends, despite his lack of sleep.
For all his eagerness and gallant character, George, close up, looks quite worn, if not ill.
His weight is normal for his build and age, but the only normal food he and Hugo have had all day is a biscuit and a cup of coffee provided by a charity in Ceret.
'Free people'
How do you see yourselves five years from now? George wants to have his parents nearby, children, a house, a garden and lots of animals, especially chickens, all in some sunny country.
"It all depends on whether I have money," Hugo says for his part. "For now I'm seeing the world."
As we part, I cannot help but ask Hugo about the amazing leg warmers he wears. They are the sleeves from a sweater.
Not to be outdone, George wants to show off the odd socks he wears in his boots, which are starting to fall apart at the soles.
"Different socks for free people," he says, writing it down on a page for good measure.
Then they are off running up the Avenue du Marechal Joffre, peeling away from the houses with flowery gardens and the council flats on the right, away from the streets on the left where a Catholic soup kitchen feeds the unemployed and destitute.
You can also follow Patrick Jackson's reporting on Twitter and read more in his blog on Tumblr.