EU court ruling hits UK over road vehicle data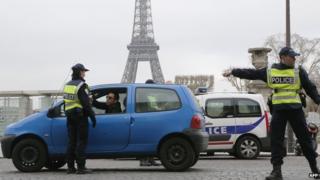 The EU's top court has annulled a law aimed at boosting European police efforts to tackle driving offences.
The UK, Ireland and Denmark opted out of the law, which enables police to exchange vehicle registration data.
But now the law will have to be revised in line with the EU treaty's transport provisions. That means it will apply to all 28 member states.
The European Court of Justice ruling goes against the UK's opt-outs in the area of EU justice and policing.
The ECJ also said the existing directive - though legally faulty - would remain in force for a maximum of a year, because "there are important grounds of legal certainty why the effects of that directive should be maintained" until the new directive can take effect.
The European Commission had contested the legal basis of Directive 2011/82, which gives police forces the ability to exchange data on eight road traffic offences - speeding, non-use of a seat-belt, failing to stop at a red traffic light, drink-driving, driving under the influence of drugs, failing to wear a crash helmet, use of a forbidden lane and illegally using a mobile telephone.
UK Conservative MEP Timothy Kirkhope, the party's spokesman on justice issues in Europe, said the ECJ ruling was "disappointing".
"The UK decided that on balance it was not in our interests to take part because the directive prosecutes vehicle owners, rather than the offending driver, and it seeks to implement fines when other deterrents - such as points on a licence - may be more effective," he told the BBC.
"If the Commission brings forward a similar piece of legislation then we will oppose it when it reaches the European Parliament."
The replacement EU directive will be classed as a "road safety" measure - which applies to all EU member states - and not as a "police co-operation" measure.