Obesity hope after gut bug discovery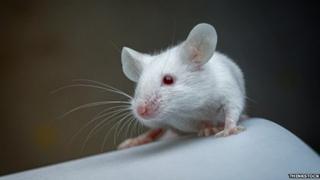 Irish scientists have made a discovery about how bacteria in the gut help to regulate weight gain, which could have implications for obesity treatments.
The research was carried out on mice by a team at University College Cork.
Their findings centre on a particular protein that is commonly produced by gut bacteria - bile salt hydrolyse.
The team found that when the levels of this protein were increased, it reduced cholesterol and weight gain in mice, leading to hopes for human treatments.
The university said the findings have implications for the "design of probiotics for the control of obesity, high cholesterol and diabetes".
The research was led by Dr Cormac Gahan and Dr Susan Joyce at the university's Alimentary Pharmabiotic Centre.
Dr Joyce said: "The findings may be used as a basis for the future selection of probiotics or dietary interventions which target this mechanism to regulate weight gain or high cholesterol.
"We now have the potential for matching probiotic strains with specific end-user needs. Work is underway to determine how this system operates in humans."
The team's findings have been published in the Proceedings of the National Academy of Sciences USA.
The Alimentary Pharmabiotic Centre is a national food and medicine research institute which is funded by Science Foundation Ireland.