Justice Minister Alan Shatter breached data laws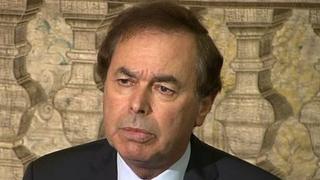 Ireland's justice minister has been found to have broken data protections laws by disclosing personal information about independent TD Mick Wallace.
Last May, Alan Shatter revealed to RTÉ that Mr Wallace had been cautioned by police for using his mobile phone while driving.
The incident occurred in Dublin in May 2012.
Mr Shatter told the Irish parliament he was given the information by then police commissioner Martin Callinan.
On Tuesday, Data Protection Commissioner Billy Hawkes ruled that Mr Callinan was not in breach of the data protection acts when he passed the information to the minister for justice.
He said it was the commissioner's duty to keep the minister fully informed.
He found the minister had breached data protection acts.
However, he has not committed an offence and is not subject to any penalty under the acts.
Mr Shatter has since apologised to Mr Wallace.
Mr Hawkes said it was a matter for any individual who feels they may have suffered damage to seek legal advice.
Mr Shatter has 21 days to appeal the decision.