Rescued Afghan vows to cross Channel again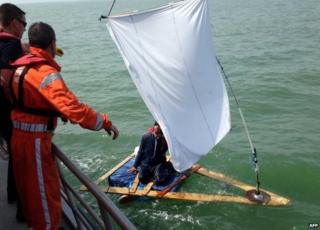 An Afghan man who was rescued by French coastguards from a makeshift raft off Calais says he will try to cross the Channel again until he reaches Britain.
Asif Hussainkhil, 23, was picked up on Monday as he tried to make the 21-mile (34 km) journey on a boat made from six wooden planks and a crutch.
He told journalists he had tried to get to the UK several times, but each time was discovered by police.
Calais is home to hundreds of illegal migrants hoping to reach England.
Every day, many of the refugees converge on the Calais ferry port desperate to stow away on lorries bound for the UK.
Others, like Mr Hussainkhil, use makeshift rafts to paddle across the Channel.
There has been a surge in migrant numbers in Calais because of conflict in the Middle East and North Africa.
The authorities in Calais say they do what they can to help, but insist that many of the young men will not accept any offers that could prevent them from making the dangerous crossing.
'Powerful country'
Mr Hussainkhil built his raft using three buoys strapped underneath the wooden planks for flotation, a crutch as the mast, and a bed sheet as the sail.
The boat was quickly swept into the ferry lane shortly after he set off from the northern coast.
The Afghan had only been on the water for 30 minutes when he was spotted by a ferry captain who radioed the coastguard, the BBC's Christian Fraser, in Paris, reports.
Mr Hussainkhil had no rudder, compass or food when he was saved, and suffered from hypothermia, wearing only a thin windcheater and rainproof trousers.
He said he was "disappointed" that his latest crossing attempt had been foiled.
"I will do it again and again, there is no other way to get to England, "he said, adding that his uncle and cousins lived there.
"Ever since I was a child, I have liked England. It's a strong, powerful country."
Mr Hussainkhil explained that he had used items found at the Calais asylum camp to build his raft.
"The plan was to get over to Britain, but the wind wouldn't let me," he said. "I was never scared of drowning. I can swim."
Mr Hussainkhil told the media he had left Afghanistan in 2000 to escape the Taliban and had since travelled through nine countries.
French coastguard chief Bernard Barron said the migrant would not have made it to the UK.
"If the wind had risen, or the raft had collided with a ferry, he would have capsized and died."