PSG's dramatic rise to European giants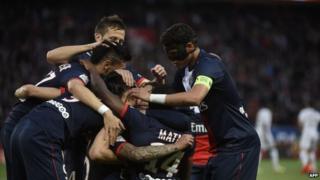 Paris Saint-Germain's success in winning the French football league for the second year in a row represents a dramatic transformation over the last three years in the club's fortunes.
This season they have also won the French League Cup and, as in 2013, once again reached the quarter-finals of the Champions' League. For the first time Parisians are beginning to feel they may have a team to shout about.
In the beginning there was a little club from Paris called Paris FC and another little club from the suburbs called Stade Saint-Germain. In 1970 they got together and became Paris Saint-Germain (PSG).
Nothing much happened for four decades except for a brief period of success in the early 1990s.
European powerhouse
But then some of the richest people in the world came to town.
They bought the club, they paid off its debts and they offered players multi-million euro salaries.
And everything changed.
Such, in a nutshell, is the story of PSG and of how in less than three years a mediocre club became a European powerhouse. Maybe not up to the Madrids and the Manchesters but not far behind.
It is a tale of how, in football, it is money that counts. PSG's new Qatari owners bought the players and the players won the matches.
But is also a story about Paris - a city with little in the way of a footballing tradition but which is suddenly beginning to acquire one.
'Place to be'
"The French have always had a funny relationship with football," says Darren Tulett, who presents a football analysis programme on French channel BeinSport (also owned by the Qataris).
"If you stop people in the street and say, 'Who do you support?' they won't know what you are talking about."
"In Paris, football was looked down on by the middle class and the intellectuals. But now that is changing. Thanks to PSG's success, everyone is coming out of the woodwork and declaring themselves to be a fan," he says.
"The Parc des Princes is filling up with politicians and actors and showbiz types. Suddenly it's the place to be."
The change is visible - and audible. On the nights of PSG's Champions' League quarter final against Chelsea, the cheers and groans could be heard through open windows around my 14th arrondissement neighbourhood. That never used to be the case.
Increasingly popular
And driving around town, you see many more people wearing the blue-and-red PSG strip.
Significantly this is something that is equally noticeable in the high-immigration banlieues (suburbs).
Until recently, Maghreb and Africa-origin Parisians paid little attention to the club - except perhaps to follow the fortunes of the occasional banlieues recruits.
The support base was predominantly white - and among the fans was a vocal and violent far-right fringe.
But now the hooligan element has been banned from the Parc des Princes and in the black and Arab areas, PSG shirts are increasingly popular.
According to Mr Tulett, the club's popularity "is performing an interesting social function - uniting Paris and the banlieues in a way that no-one else has been able to do".
Big players attracted
With top world players on its books like Zlatan Ibrahimovic, Edinson Cavani and Thiago Silva, PSG is also for the first time attracting serious international attention.
"A few years ago you couldn't give French League TV rights away. Now we have 90 channels around the world that show Ligue 1," says Matt Spiro, who commentates on French matches for the international audience.
According to Mr Tulett there is "a proven footballing model that shows that when one club in a league takes off, others follow".
"And now we can see Monaco attracting the big players. Soon others like Bordeaux and Lille will be behind.
"The French league still lags behind the big four in Europe: England, Spain, Germany and Italy. But it is catching up."
At the team shop on the Champs-Elysees, a random sample of visitors includes Japanese, Mauritians, Americans and a Namibian man: "We don't watch much French league in Namibia, but we do watch the Champions' League. And if PSG keeps going the way it is, there will soon be fans in Windhoek."
But there's the big question. Twice in a row now PSG have got through to the quarter finals of the European Champions' League; and twice they have been knocked out.
"When they lost to Chelsea, it was a huge disappointment," says Mr Tulett. "They expected to go further and they didn't."
"It was seen as a failure. Not really fair perhaps, given how far they have come and so quickly.
"But they're in the big league now, and that's how they'll be judged."