Ukraine crisis: Why did Putin intervene in referendum?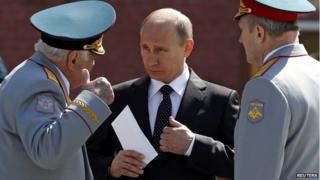 As Eastern Ukraine spiralled into violence in the last few weeks there has been lots of fury from Moscow, but few insights into President Vladimir Putin's strategy.
That all changed on Wednesday, when he met Swiss President Didier Burkhalter.
Straight after the meeting he told a surprised Kremlin press corps that he was calling on the armed pro-Russian activists in Eastern Ukraine to postpone their controversial referendum.
It was the first sign that he wanted to try to bring Ukraine back from the brink of civil war. Though he made it clear who he thought had taken it there.
"The responsibility for what is happening in Ukraine now," he declaimed, "lies with the people who carried out an anti-constitutional seizure of power, a coup d'etat, and with those who supported these actions and gave them financial, political information and other kinds of support and pushed the situation to the tragic events that took place in Odessa."
"I can understand the people in southeast Ukraine, who say that if others can do what they like in Kiev, take up arms and seize government buildings, police stations and military garrisons, then why shouldn't they be allowed to defend their interests and lawful rights?"
But what is his plan now? Why did he intervene in the referendum at this late stage?
Well firstly he told us that it was not Russia's job to solve the crisis.
"The idea that Russia holds the key to resolving the problem is a trick thought up by our Western partners and does not have any grounds in reality. No sooner do our colleagues in Europe or the US drive the situation into a dead end, they always say that Moscow holds the keys to a solution and put all the responsibility on us."
But he did say that he believed a "full-fledged and equal" dialogue between the government in Kiev and people representing the southeast is the best solution.
A bloody dead-end?
A senior source close to President Putin told me that Russia would even support the Ukrainian presidential election on 25 May if the talks started, and if Kiev stopped using violence in the southeast.
It may be a sign the President Putin thought the fighting in the Donetsk region was heading into a bloody dead-end that might be about spiral out of control.
Or it may be a sign that he feels that the next round of sanctions would hurt Russia too much, and he thinks the annexation of Crimea is sufficient punishment of Kiev and the EU and the US for now.
But it may just be a delaying tactic, a way of seeming to be doing something while knowing that the conflict will continue, further undermining the government in Kiev.
Certainly his closing remarks were not very optimistic.
"I don't know how realistic a Geneva-2 round of talks or even internal political talks in Ukraine itself would be. I simply believe that if we want to find a long-term solution to the crisis in Ukraine, open, honest and equal dialogue is the only possible option."
Perhaps Kiev and the EU and the US should take his remarks at face value, and immediately start a dialogue with the Donbass protesters.
But after the annexation of Crimea - and the failure by Russia to act after the Geneva talks - the number of people prepared to trust Russia again is small.