Ukraine crisis boosts Russian patriotism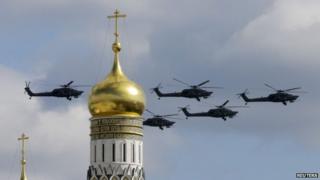 Russia is marking the Soviet victory over the Nazis in World War Two with its annual Victory Day parade in Red Square. And, as the BBC's Steve Rosenberg reports from Moscow, the current crisis with neighbouring Ukraine has led to a surge of patriotism amongst Russians.
At the Museum of the Great Patriotic War, a voice announces a minute's silence.
The sound of a slow-beating metronome echoes through the dimly lit chamber, the Hall of Remembrance and Sorrow.
"Eternal Glory to the heroes!" the announcer declares. Solemn music plays.
The Russian war veterans who have been standing, heads bowed, approach the white marble statue of a woman grieving over a fallen soldier.
They lay red carnations in memory of the more than 20 million Soviet citizens killed in World War Two.
When they fought and defeated Nazi Germany 70 years ago, Russia and the West were allies. But when I speak to some of the veterans, it does not feel like that today.
I get chatting to 89-year-old Vladimir Petrovich. He is wearing his old military uniform, which is covered in more than 40 medals.
"Look what's happening in Ukraine," Vladimir tells me. "America is supporting a government in Kiev that the people there don't want. America is trying to run the show. I'm worried there could be another war."
Then I meet 88-year-old Bilal Bagadiev. He is wearing a sailor's cap from the Far Eastern Fleet.
Bilal tells me that he has run 100 marathons. He has even run 10km (6 miles) with Bill Clinton and got a signed photo of the US president as a souvenir. But Bilal has gone off America.
"Today," he tells me, "the US is trying to push Russia around. But they won't succeed."
And yet when the veterans sit down for lunch and a cabaret, the US is very much part of the celebrations.
When the show begins, the theme tune from the classic US soap opera Dallas blasts out of the loudspeakers. It is repeated a dozen times. It seems that not everything American is frowned upon.
The party kicks off with the man once referred to as the "Frank Sinatra of the USSR" Iosif Kobzon. As well as crooning, Mr Kobzon plays politics, too. He is a Russian MP in the Duma.
"With pain we remember all the victims," he sings, "their names will forever be etched into our hearts, like the scars of war."
Iosif Kobzon was born in Soviet Ukraine, not far from Sloviansk. There is a statue of him in Donetsk, which was recently daubed with blue and yellow paint - the colours of the Ukrainian flag.
Mr Kobzon, too, blames the West for today's violence in Ukraine.
"The West lacks intelligence, it doesn't understand the situation and it has forgotten the past," Mr Kobzon tells me.
"At some point they'll realise their mistake. And Russia will forgive them. That's because we're so big-hearted."
The show ends with 11-year-old Mariya singing her heart out about World War Two, about fierce battles by the Volga River and Stalingrad.
"The whole world bows their heads to our heroes," she sings.
The war veterans look on with admiration and applaud loudly when Mariya's performance is over.
When I talk to Mariya, she tells me that her country today is facing "threats and dangers". She points to what is happening in Ukraine.
"It's bad. It's a civil war there," Mariya says, "and one result is that Ukrainians don't like Russians anymore. That pains me, because Ukrainians are our brothers."
Mariya goes on to tell me all about patriotism, about how important it is to love your country, because, she says, your home country "is like a second mother".
Following Russia's annexation of Crimea, Russia has been experiencing a wave of patriotism.
It is encouraged by the Kremlin, and fuelled by rousing reports on state-controlled television and radio.
This year's Victory Day parades and celebrations are likely to strengthen that sentiment.