US Airways flight diverts to Dublin Airport after cabin crew become ill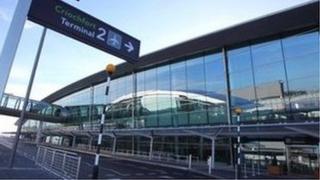 A US Airways flight travelling from Venice to Philadelphia has been diverted to Dublin Airport, after a number of cabin crew became ill.
The plane landed in Dublin at 15:15 BST on Saturday after a number of crew suffered nausea and dizziness.
Airport emergency services along with paramedics were waiting for the plane when it landed.
The Health Service Executive (HSE) said nine people were taken to Beaumont Hospital in Dublin for observation.
There were 185 passengers were on board the US Airways flight.
A spokesperson for Dublin Airport Authority said the flight had been cancelled as a result of what had happened.
It is understood passengers will be accommodated in Dublin overnight while arrangements are made to resume the flight.