Stolen painting returned to Hugh Lane Gallery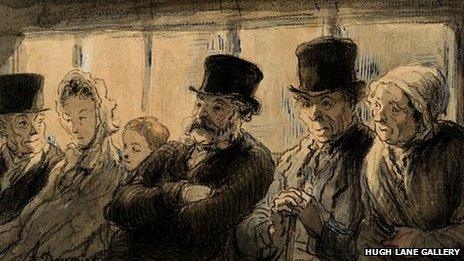 A painting that was stolen from an Irish art gallery more than 20 years ago has been recovered.
In The Omnibus by the French artist Honore Daumier was ripped off the wall of the Hugh Lane Gallery in Dublin in June 1992.
It was found by officers from the Criminal Assets Bureau (CAB) during an investigation last year.
Barbara Dawson, director of the gallery, said she was "delighted" the painting had been found.
"It was such a shock when it was stolen and we had messages of sympathy from galleries and museums in Ireland and around the world.
"Daumier is a very significant artist whose powerful realism and social consciousness continues to have relevance today.
"This drawing is a superb example of the artist's visual social commentary.
"The omnibus, the first ever wide-scale public transit system was introduced to Paris in 1928.
"Daumier made a series of drawings of passengers in the omnibus. In this work he shows how workers are transported around the city in a crowded car."
Honore Daumier (1808 - 1879) was a French caricaturist, painter and sculptor.
At the time it was stolen, In the Omnibus was valued at hundreds of thousands of pounds, but the gallery refused to comment on what it may be worth today.
Related Internet Links
The BBC is not responsible for the content of external sites.