Hungary 1956 revolt: Bela Biszku jailed for war crimes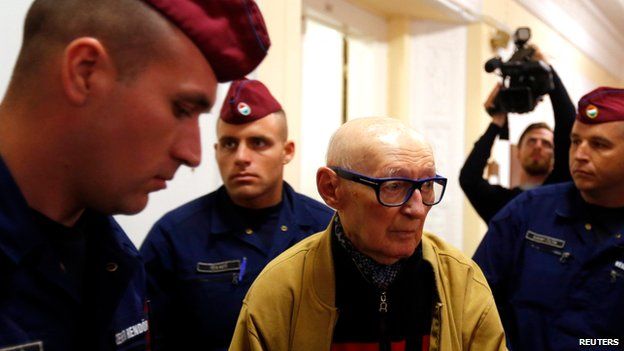 A former Hungarian interior minister has been found guilty of war crimes over the suppression of the October 1956 uprising against communist rule.
Bela Biszku, 92, was convicted of ordering security forces to open fire on civilians, killing 49 people.
The anti-communist revolt toppled the government but was put down by the invasion of forces from the Soviet Union three weeks later.
This was the first trial in Hungary of a former top communist.
Biszku was sentenced to five years and six months in prison. He has the right to appeal.
He was a member of the interim executive committee which set up militias to suppress the uprising.
In December 1956, 49 people died when the militias opened fire indiscriminately on two rallies, in Budapest and the town of Salgotarjan.
Biszku was also found guilty of other charges, including denying crimes committed by the communist regime - a crime in Hungary, like Holocaust denial.
He is the only surviving member of the 1956 executive committee.