F1 boss Bernie Ecclestone 'paid banker $44m bribe'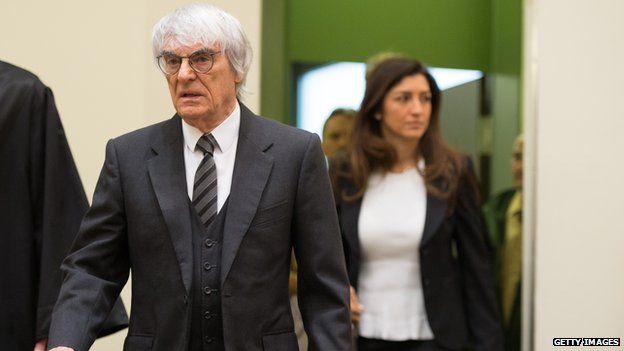 A jailed banker has told a court in Germany that Formula 1 boss Bernie Ecclestone gave him a $44m (£26m) bribe to facilitate a business deal.
Gerhard Gribkowsky, already convicted of taking the money, was allegedly paid to ensure that a company favoured by Mr Ecclestone could buy a stake in F1.
Mr Ecclestone denies bribery, claiming that he was a victim of blackmail.
If found guilty, the F1 boss could face a 10-year jail term and the end of his decades-long dominance of motor racing.
Gribkowsky, the star witness for the prosecution, claims he was first approached by Mr Ecclestone in Singapore.
"I had a carrot dangled in front of me. I grabbed the carrot," he told the court in Munich.
However, he was not specific about what was expected in return for the payment.
"That remained vague," he told the judge.
Prosecutors say Mr Ecclestone bribed Gribkowsky, who was on the board of Bayern Landesbank, to ensure that a stake in F1 was sold to a private equity group of Mr Ecclestone's choice.
They allege that by securing the sale of the stake to a company Mr Ecclestone favoured, he would remain in charge of Formula 1 and its commercial rights, broadcast payments and sponsorship deals.
Mr Ecclestone has argued that the payment was hush money, handed over because Gribkowsky had threatened to make false claims about the F1 boss's tax status.
Gribkowsky has admitted spreading rumours about Mr Ecclestone but insists he was not guilty of blackmail. "I'm no evil extortionist," he told the court.
Mr Ecclestone has run the sport for almost 40 years, turning it into a huge global commercial success.
He is the long-time commercial rights holder of F1, but sold off a majority of the ownership in the 1990s.