Eurovision's 'bearded lady' winner divides Russia
By Steve Rosenberg
BBC News, Moscow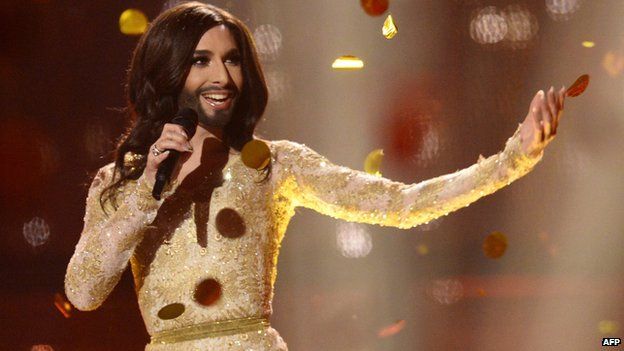 In his spare time, Communist MP Valery Rashkin likes climbing mountains. Back in the USSR he was a champion alpinist.
Today, though, Mr Rashkin faces an uphill battle of a different kind: to liberate Russia from the Eurovision Song Contest.
"I watched the results of last Saturday's Eurovision with deep pain," Valery tells me. "Giving first place to a bearded lady is a slight on humanity and suicide!"
The bearded lady in question is Austrian drag queen Conchita Wurst. At the Eurovision final in Copenhagen, Conchita triumphed with 'Rise Like a Phoenix'.
In the corridors of Russian power, though, she sank like a lead balloon. Russian officials have cited her as an example of Europe's moral decay.
Minutes after the result was announced, nationalist MP Vladimir Zhirinovsky ranted to Russian TV viewers: "This is the end of Europe. It's rotted away. There are no more men and women. There is just 'It'!"
If Valery Rashkin has his way, this will be the end of Russia's participation in Eurovision.
He has submitted an official request with the government to pull his country out of the contest and create an alternative competition called 'The Voice of Eurasia'. Mr Rashkin claims that "dozens" of Russian MPs back his initiative.
"I'm convinced that all sensible people, who love children and their motherland, will support this idea," he assures me. "The new contest will promote completely different values. Certainly not the values of transsexuals, lesbians and homosexuals."
One of the Duma's most devout anti-Eurovision deputies is Oleg Nilov.
In parliament this week, Mr Nilov claimed that "dark forces" had prevented Russia's entry, the 17-year-old Tolmachevy twins, from winning.
"They didn't like our girls because they had braids, not beards," he alleged, then promptly burst into song, with an impromptu performance of the Russian folk tune "Black Crow".
But why is there such disharmony in the Duma over a song contest?
Last year President Putin signed a law that restricts the spread of information about "non-traditional sexual relations".
Moscow argues the legislation is necessary to protect under-18s and to promote traditional family values in Russian society.
One of the architects of the law was Vitaly Milonov, a member of the St Petersburg city council. He has vowed to prevent Conchita Wurst coming to Russia to give concerts.
"We should not allow this sick man to have concerts here," Mr Milonov tells me. "All this gay propaganda is disgusting. You buried Eurovision. Where the Eurovison song contest was there is now a big grave with the name of Conchita Wurst on it.
"Perhaps next time we should enter a singing bear, or perhaps a dancing troupe from the Russian intelligence service. In fact it's useless for us to send singers to your contests. We cannot expect fair play."
In place of Eurovision, Vitaly Milonov proposes a programme of "traditional songs and poetry about true love." He suggests a title for it: "Russian Openvision".
It is not only politicians who have been protesting.
There has been a campaign against Conchita in the Russian blogosphere, too, with Russian TV and pop stars posting images of themselves shaving off their beards in protest at Austria's victory.
And yet, if you look at how the Russian public voted in the Eurovision final, a very different picture emerges.
Russian televoters loved Conchita Wurst and ranked her third. It seems the public is less outraged by a bearded lady than parliament thinks it ought to be.
Vitaly Milonov dismisses the results of the voting as "fake".
But even on Russian state TV's live post-Eurovision chat show, there were studio guests voicing support for the Austrian singer, expressing views not normally heard on state television.
"Why do we always have to look for someone to hate?" asked one member of the audience.
In a live link-up from Copenhagen, even the writer of this year's Russian entry, Filip Kirkorov, declared: "Let's respect the winner. It doesn't matter if they have a beard or not. If they're a man or a woman.
"Perhaps the result is a protest against our views in Russia. Perhaps it should make us consider whether we should be so extreme in our attitudes towards sexual minorities and to people of different nationalities."
Related Internet Links
The BBC is not responsible for the content of external sites.