Turkey's mining safety: Bleak track record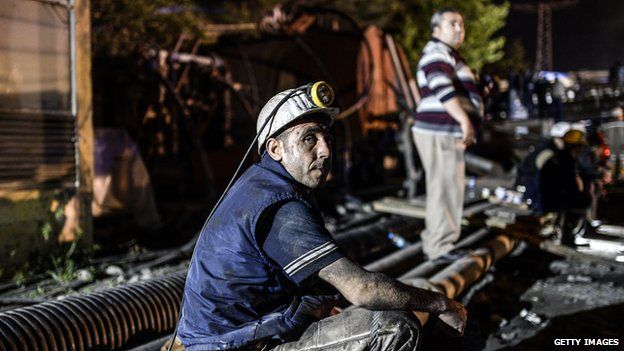 As people in Turkey start looking for answers after one of the country's worst mining tragedies, attention has quickly turned to mining safety standards in the western town of Soma.
The issue of mining safety was on the political agenda before Tuesday's disaster.
Just a couple weeks ago, the main opposition Republican People's Party (CHP) tabled a motion in parliament calling for a thorough inspection of coal mines in the country.
"We are sick of going to the funerals of miners. We have to do something to stop these fatalities," Ozgur Ozel, an MP from the CHP, told his fellow lawmakers with a miner's helmet in his hand.
His motion was rejected mainly because members of the ruling Justice and Development Party (AKP) voted against it.
In his speech at the site of disaster, Prime Minister Recep Tayyip Erdogan described that motion as "an effort to block main issues of the parliament".
But Turkey's track record of mining accidents is a bleak one.
Some 13,000 miners suffered accidents at work in 2013, according to the Turkish Statistical Institute.
Before the Soma disaster, there had been 1,308 fatal accidents in the industry since 2000.
Gas explosions, pit collapses and carbon-monoxide poisonings are the main causes of fatalities.
On average, more than seven miners die in Turkey every year because of workplace accidents for every million tonnes of excavated coal, according to a report by the Economic Research Foundation of Turkey (TEPAV).
Turkish mining industry
1,308
Fatal accidents since 2000
263 Died in 1992 disaster

13,000 Miners involved in accidents in 2013

10.4% Of all work-related accidents last year
AP
This death toll eclipses that of China, where just over one miner is killed per million tonnes, TEPAV says.
The foundation puts the figure for the US even lower, with 0.02 miners killed for every million tonnes of coal excavated.
Researchers point to a number of reasons for the high rate of fatalities in Turkey's mines.
Some attribute it to cultural attitudes towards workplace safety and the industry more widely.
After 30 people died in a mining disaster in 2010, Prime Minister Erdogan said: "Unfortunately, this profession has this in its destiny."
There are also claims that conditions have worsened since the government moved to privatise the mines in 2004.
Labour unions accuse private companies of failing to invest enough in the safety of their workers in favour of larger profit margins.
In a 2013 report, the Global Methane Initiative, an international partnership aiming to reduce global methane emissions, highlighted Turkey's "lack of investment and uncertainty over privatisation policies" as the main challenges for the industry in Turkey.
Major companies such as Koc, Sabanci and Dogan have all entered the Turkish mining industry since the privatisation initiative in 2004.
The country still has about 1.3 billion tonnes of hard coal and 11.5 billion tonnes of lignite resources, according to the European Association for Coal and Lignite (Euracoal).
But the privatisation of Turkey's coal mines has also caused diplomatic disagreements.
Included in one of the most recent rounds of privatisation was the Afsin-Elbistan coal mine and thermal power plant, located in central Anatolia.
Initially, the Abu Dhabi National Energy Company (TAQA) reached an agreement with the Turkish government for a $12bn (£7bn; 8bn euros) project.
TAQA, the state-owned energy company of the United Arab Emirates, was supposed to invest in new technologies and modernise both the mine and the power plant.
However, the company decided to back down from the deal shortly afterwards.
Turkish Energy Minister Taner Yildiz described the decision as "political".
TAQA's decision came just after the prime minister expressed support for the Muslim Brotherhood in Egypt and condemned the ousting of President Mohammed Morsi.
Mining makes up 1.2% of the Turkish economy. The industry is worth almost $2.5bn and it provides employment for 92,000 people.
Zonguldak, a northern province close to the Black Sea, is the most famous mining region of Turkey and has vast coal reserves.
But it was also the site of Turkey's biggest mining disaster prior to Soma. An explosion at the mine in Zonguldak in 1992 killed 263 people.
After this, many mining families moved from Zonguldak to Soma in search of a better life.
But many are now recalling the bitter memories of that catastrophe.