Le Monde managing editor Natalie Nougayrede resigns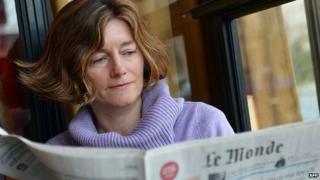 The managing editor of French newspaper Le Monde has resigned amid a newsroom rebellion over the paper's future.
Natalie Nougayrede, the first woman to hold the post, said she had been "undermined" as head of the paper.
Last week, most of Le Monde's chief editors stepped down after growing disputes over proposed changes.
Analysts say the press in France, as elsewhere, is struggling to maintain profit as the internet eats into readership and advertising.
News of her resignation came as the New York Times announced it had replaced the first woman to lead the paper - executive editor Jill Abramson - with immediate effect.
In a letter, Ms Nougayrede said she no longer had the authority to do her job with the "peace of mind and serenity" necessary.
"I cannot accept being undermined as head of the paper," she said.
Differences are said to have focused on a planned new print format, a tablet edition and disagreements over planned personnel changes.
Last Friday, Ms Nougayrede's two deputies - who had also faced criticism from a large part of the newsroom - stepped down as well.
Ms Nougayrede, a veteran Le Monde reporter, took up her post in March last year, succeeding Erik Izraelewicz who had died suddenly of a heart attack in his office in November 2012.