Public sector strike in France after new savings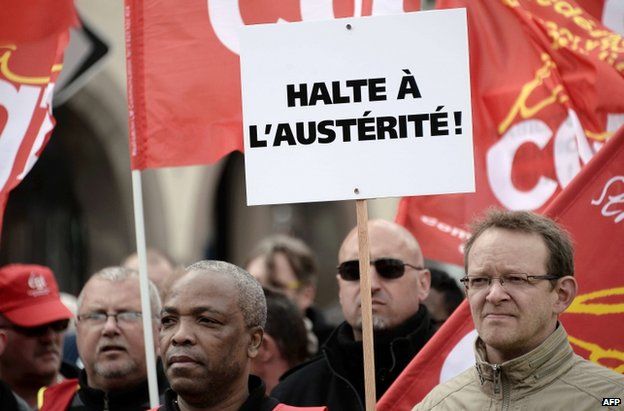 Workers from France's public sector are holding a one-day strike in protest at cuts as the Socialist government struggles to revive the economy.
Thousands of protesters are marching across France, with problems expected for flights and channel ferry services.
Prime Minister Manuel Valls forced through 50bn euros (£41bn; $69bn) of savings last month, including a freeze on public sector pay for three years.
Unlike other eurozone states, France saw no growth in the first quarter.
Germany registered 0.8% and Spain 0.4%.
Unemployment remains rigid at 11% and it is no wonder the government is cutting taxes and turning in desperation to more business-friendly policies in a bid to reduce the inflated cost of labour, the BBC's Christian Fraser reports.
The unions have not been entirely successful in mobilising their workers of late, he notes. Perhaps the French are starting to recognise that the coffers are empty and reform is inevitable, our correspondent adds.