Turkish mine disaster: Erdogan struggles as grief turns to anger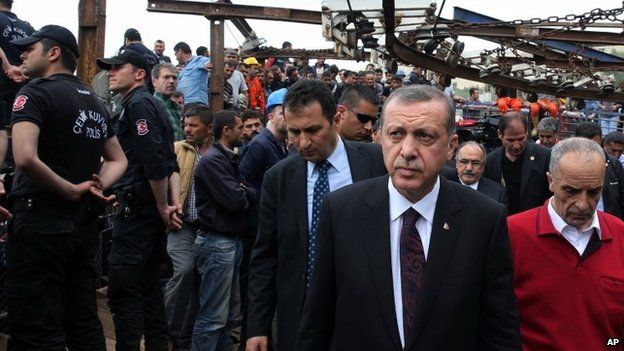 National disasters produce lasting images which can often change the course of a leader's time in office.
Bill Clinton's embrace of victims of the 1995 Oklahoma bombing increased his stature; Premier Wen Jiabao's care for the victims of the 2008 Sichuan earthquake ensured his popularity.
By contrast, Recep Tayyip Erdogan appears to have struggled to capture the mood of an angry, mourning nation.
Turkey's prime minister has compared the Soma mine explosion to the mining disasters seen in the UK during the 19th Century.
It may be that he was repeating one of his common themes - that Western countries have no right to criticise Turkey when their own records are just as bad.
But having to go back more than a century to find a parallel does not necessarily strengthen his case.
It has also not been of any immediate consolation to the families of the Soma miners.
The pro-government press continues to support Mr Erdogan.
"The state is using all its powers to help," assures Takvim. "We will find out why this happened," Yeni Akit quotes the prime minister.
Aksam prints on its front page a small photo of the prime minister formally shaking hands with a miner's relative in the crowd. It is hard to see her face.
But it may be that the startling photo of an Erdogan aide (in a smart suit) appearing to kick a protester in Soma comes to symbolise what has happened here.
To the prime minister's opponents, the photo encapsulates their long-held complaints - about a privileged administration that treats dissent as treason.
For years, Mr Erdogan has largely dismissed his opponents as rabble.
In 2013, he survived opposition protests which began in Istanbul's Gezi Park.
He has been able to defeat his opponents for one simple reason: his party beats them at the polls.
Over the last decade, Mr Erdogan's loyal coalition of the working class and religious conservatives has won him three general elections.
But now, Mr Erdogan faces the possibility of new opponents - members of the working class who identify with the miners, and who are angered by the lack of safety at the Soma mine.
Still, anger with the government does not necessarily translate into support for the opposition.
Turkey's main opposition leader, Kemal Kilicdaroglu, was also booed when he visited the mine on Wednesday.
Some disaffected Erdogan supporters may hope that the AK Party does what the British Conservative Party did to Margaret Thatcher in 1990 - get rid of a divisive leader in favour of a more conciliatory figure.
But Mr Erdogan's party colleagues and rivals show little inclination to openly challenge the man who founded their movement.
His main potential rival inside the AK Party - President Abdullah Gul - has publicly criticised some of the prime minister's actions, including the recent Twitter ban. But an alliance between the two men remains in place.
Mr Erdogan is considering applying for Mr Gul's job.
In early June, many expect the prime minister to announce that he is running for president in direct elections to be held in August. He has implied that he will be able to continue governing Turkey if elected president.
If he does run, one thought may run in the back of his mind - Turkey exacts a high price from its governments for failing to deal with disasters.
In 1999, an earthquake in the north-western town of Izmit killed 17,000 people.
The government at the time was widely criticised for its response. Its halting actions were seen as the symptom of an ineffective government. It eventually lost power in 2002 - to Mr Erdogan.