Commonwealth Games baton in the Channel Islands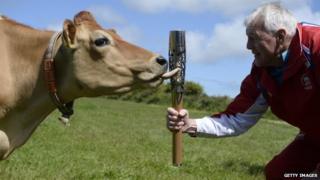 During its time in the Channel Islands, the Queen's Commonwealth baton has been licked by cows, carried by an Olympic diver and serenaded by a steel band.
The baton's tour of the Commonwealth arrived in the Channel Islands on Sunday and was carried into St Aubin in Jersey by diver Tom Daley.
Hundreds of young athletes lined up to meet him and greet the baton as it made its first stop in the British Isles.
During its five day tour it was taken to five different islands.
The baton was flown into Jersey Airport from Gibraltar on Sunday afternoon to a fanfare performed by a brass band.
Commonwealth Games Ambassador Tom Daley arrived into St Aubin harbour by boat with the baton later in the evening and was joined by Jersey's world indoor shot-putt champion, Zane Duquemin.
Mr Daley described the experience as amazing. He said: "I didn't drop it, I didn't fall into the water, the crowd was amazing and it was so much fun."
On the Monday the baton was carried in a relay by school children from St Helier primary schools led by the Jersey Pipers.
It finished its Jersey leg on Tuesday with a stop at Corbiere lighthouse before being taken to a field by La Moye school pupils and introduced to a Jersey cow.
On Tuesday evening the baton travelled from Jersey to Guernsey by boat and was met by the Guernsey Commonwealth Games Team at Beau Sejour leisure centre.
Guernsey cyclist Karina Bowie accompanied the baton as it was taken round the island visiting primary school children on Wednesday.
The baton was taken to all except one of Guernsey's schools for special assemblies attended by past and present athletes.
Two pupils from each school acted as baton bearers taking it to the next school.
On Thursday it left Guernsey for a four island hop, spending an hour each in Alderney, Sark and Herm, before returning to Guernsey.
Alderney tourism manager Alex Flewitt said it was an incredible opportunity.
She said: "It has been a fantastic few hours, it has been wonderful to welcome it here. What a wonderful opportunity for a community as small as ours to welcome something that children across the UK would not have had the opportunity to see."
The baton contains a secret message from the monarch, which will be revealed at the opening of the 2014 Games in Glasgow in July.
It travels to the Isle of Man next and then on to Northern Ireland, Wales and England before ending its journey with a 40-day tour of Scotland.