French rogue trader Kerviel in border appeal to Hollande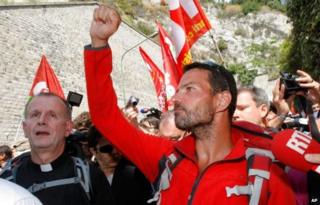 Convicted rogue trader Jerome Kerviel says he will not return to France to face a three-year prison term without hearing from President Hollande.
Kerviel, 37, caused his bank Societe Generale losses of 4.9bn euros (£4.1bn) but lost his appeal against a jail term in March.
He had been expected to return to France from Italy on Saturday.
But he told reporters he wanted Francois Hollande to grant immunity to witnesses who could testify for him.
Although the appeal ruling in March upheld his jail term, it scrapped an order for Kerviel to return the money he had lost.
Kerviel, convicted in 2010, had set off on foot from Rome to Paris before the ruling and spoke to reporters a short distance from the French border.
He said potential witnesses were ready to give evidence but were "afraid" of doing so.
Kerviel is required to report to French police by Sunday afternoon. "If they want to come and find me, let them come," he said.
In a piece published by French daily Nice Matin on Saturday, Kerviel said he was awaiting a response from Mr Hollande to an open letter written by his lawyer.
Recalling a 2012 presidential campaign speech in which Mr Hollande spoke of finance as his "true adversary", Kerviel said: "Does he understand, he who can do everything, that I am nothing in this affair, if not a victim of his enemy?"