Ukraine crisis: New hopes and fears for Crimea Tatar refugees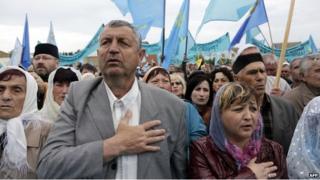 Thousands of Crimean Tatars have fled to mainland Ukraine since their homeland's annexation by Russia in March. The BBC's Yaroslav Lukov, gauging opinion across the country ahead of Sunday's presidential elections, meets Crimean Tatar refugees who are trying to build a new life in Lviv.
"I'm here temporarily, on vacation," Shefket says mischievously, as he runs around serving customers in his newly-opened cafe right opposite the city hall.
"The poor don't have time for any interviews," he quips, rejecting my attempts to strike a conversation.
"But I guess I can answer some of your questions while preparing food," he finally relents after I ordered - in his words - "the best Crimean kebab".
The 44-year-old refugee from Crimea is determined to make his cafe - still without a name - a success.
But he doesn't want much publicity for himself because of fears his extended family may be targeted by the Russian authorities back in Crimea.
"The Russian state is like a bulldozer building a new road: we were just pushed out of the way," Shefket says.
'Police peninsula'
The number of Crimean Tatar refugees in the Lviv region has swollen to about 1,000 from 20 since the Russian takeover of the peninsula in March, says local Crimean Tatar activist Alim Aliyev.
Mr Aliyev, a co-founder of the Krym (Crimea) SOS aid initiative, says many Tatars were forced to leave because of harassment.
"Moscow has managed to transform Crimea into a police peninsula in such a short time.
"The number of riot police brought into Crimea is just mind-boggling. Russia is also trying to marginalise the informal Tatar parliament, the Mejlis."
Mr Aliyev points out that even on 18 May - the anniversary of the deportation of the Tatars by Stalin in 1944 - Moscow tightly controlled Tatar commemoration meetings, with army helicopters buzzing above the crowds.
'Dream quashed'
Over the weekend, Mr Aliyev and other activists organised their own gathering for Tatars in Lviv, where hundreds lit candles to remember the horrors of the deportation.
That's where I met one of the newest arrivals from Crimea - Nail Kaneyev.
The 61-year-old from Simferopol said he had to leave after the Russian security services started making enquiries about the nature of his leg injury during a pro-Ukrainian meeting back in February.
Mr Kaneyev, who was born in exile in Uzbekistan and only moved to Crimea in the 1980s, said his dream to "live on the same street as my father did" may now be quashed forever.
Crimean Tatars
Turkic people, Muslims
Origins traced to Mongol Horde's raids in 13th Century
18 May 1944 - deportation begins of more than 200,000 on Stalin's orders
About 40% die in first two years in exile
Some 260,000 have returned to Crimea since 1980s
Made up 10% of Crimea's population before Russia's annexation in March 2014
Thousands have since fled to mainland Ukraine
About 8,000 left to mainland Ukraine since the annexation, some 1,000 to Lviv
He described the new Crimean authorities "as bandits", who relied on armed gangs known as "self-defence" forces.
'Islamisation' fears
But in Lviv the refugees face new problems: some live in overcrowded houses with poor sanitation, others are struggling to find a job.
Although they were initially warmly welcomed, many now are not receiving financial help from the Ukrainian state and have to rely on each other to survive.
There are also what Mr Aliyev describes as concerns of the local authorities over potential "Islamisation" of Lviv.
Despite all this, many Crimean Tatars hope they can survive their second exile and eventually return home.
After all, as Shefket put it, they try to convince themselves they are here only "on vacation".