Pro-Russia separatists 'ambush' fighters in eastern Ukraine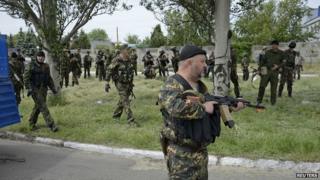 Pro-Russia separatists have ambushed Ukrainian self-defence fighters near the eastern city of Donetsk, with some soldiers wounded, military sources say.
Commander Semen Semenchenko said in a Facebook post that his pro-Ukrainian volunteer group came under attack near the village of Karlivka.
The attackers used automatic weapons, snipers and grenade launchers, he adds.
It comes a day after government forces suffered the worst loss of life to date, with at least 14 soldiers killed.
It is still unclear who was behind Thursday's attack in the Volnovakha area of eastern Ukraine.
Wounded
The latest violence comes two days ahead of Ukraine's presidential elections, and the insurgency has seriously disrupted preparations for the vote in the Donetsk and Luhansk regions.
The election was called after the last elected president, Viktor Yanukovych, was deposed in February amid mass protests against his pro-Russian policies.
Mr Semenchenko, of the Donbass region battalion - a volunteer force attached to the army - said they could not retreat as they were surrounded by armed separatists and called on Ukrainian army units to help.
"Exactly half our unit has been wounded. Many have lost lots of blood," he said.
It is unclear how many were wounded in the attack. However, an AFP photographer reported seeing at least five bodies near the village of Karlivka.
Four of the bodies were apparently rebels and the fifth possibly from a volunteer force attached to the military, the news agency adds.
Separatists have been skirmishing with security forces in Donetsk for weeks but Thursday's attack, which took place north-west of the city, was the deadliest attack on soldiers to date.
Separately on Friday, Russia's deputy defence minister vowed to pull back all forces deployed near the border with Ukraine "within a few days".
Anatoly Antonov told Reuters news agency that Moscow would comply with Western calls for a withdrawal of its troops saying: "We will leave less than nothing behind."
Moscow has concentrated an estimated 40,000 troops across the border from eastern Ukraine, where pro-Russian separatists have declared two independent states.
Russian President Vladimir Putin ordered the troops to withdraw to their bases earlier this week, a move considered necessary to de-escalate the Ukraine crisis.
President Putin said on Friday he would "respect the choice of the Ukrainian people" in Sunday's vote but also that he believed the crisis in Ukraine had descended into "chaos and full-scale civil war".
He made his remarks at an economic conference in St Petersburg.