Ultras united: Football fans rally for Ukraine's sake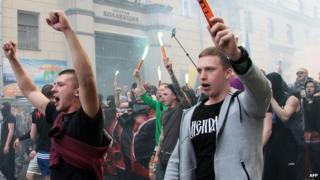 They used to hate Metalist Kharkiv's guts - a trip by Dnipro Dnipropetrovsk supporters to that neighbouring eastern city meant risking a broken jaw or worse.
Pre-arranged mass fights and knifing were a routine thing.
Not any more. In fact, Dnipro's hardcore fanatics, the Ultras, now call the Metalist lot their brothers in arms.
For those uninitiated in Ukraine's pitch battles, it's like Arsenal and Tottenham fans in England or Spain's Real Madrid and Barcelona faithful embracing each other.
The trigger was the Maidan - mass protests in Kiev that led to the ouster of former President Viktor Yanukovych in February.
Virtually all Ukrainian top division clubs - many of them sworn enemies - signed a "gentlemen's agreement" to fight against what they saw as corrupt and brutal authorities.
"The former regime thought people could be easily squashed and intimidated," says Rodion, one of about half-a-dozen Ultras I met at their headquarters.
"We - as a footballing community - proved that by uniting the clubs it was important for us to have a free country."
Shoulder to shoulder
A number of football fans from all over Ukraine - including Dnipro - played an active role during the weeks of deadly clashes with riot police around the Maidan.
Dnipro's Ultras also collected money and medicine to help those injured.
The Yanukovych regime may be gone, but a "new enemy" soon emerged, chips in Serhiy, another Dnipro Ultra.
He was referring to March's annexation of Crimea by Russia and a deadly "separatist" rebellion in the east blamed on Moscow. Although, the Kremlin denies the claim.
"People realised that football is just a game compared to what is happening in Ukraine," Serhiy says.
"Ukraine is above all. People have stood shoulder-to-shoulder for one idea."
And that idea, he stresses, is a united Ukraine.
"Thanks to football, we've all united, and are a force to be reckoned with to resist those who come to our house and tell us how we should live."
For the record, all the fans I met in Dnipropetrovsk were native Russian speakers - with Rodion being an ethnic Russian from Crimea.
Powerful driving force
But being football fans, they've naturally aimed for the spectacular to highlight their support for a unified Ukraine.
One of the tallest buildings in Dnipropetrovsk, Hotel Parus, suddenly got a giant trident - one of the symbols of Ukrainian statehood.
Last week fans from a number of clubs lit hundreds of torches in a grandiose show on one of Kiev's bridges.
And a football chant with very strong words against Russian President Vladimir Putin has now been uniformly adopted across the stadiums of Ukraine.
"All of the fans in Ukraine are patriots. And all the guys understand that their (separate) ambitions are nothing," says Yevhen, one of the leaders of the Ultras.
"The freedom of Ukraine, the fight against the system, the regime of Yanukovych are more important."
The hardcore football fans from competing clubs - previously seen as radicals wreaking havoc wherever they went - are now suddenly seen as a powerful driving force behind a new emerging Ukraine.
A football fan in today's Ukraine is seen first of all as a protector of rights and freedoms - not a beer-bellied thug bent on destruction.