Ireland's voters give government a bloody nose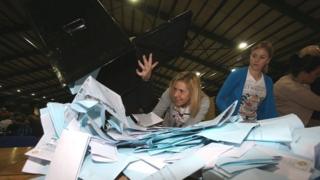 Even as the ballot boxes were being opened in the Irish local government elections and two by-elections, it was clear that Sinn Féin and Independents were going to do well.
It was also clear that the two coalition parties - Fine Gael and Labour - were going to perform as badly as opinion polls had predicted.
It seems that voters have had enough of austerity - six years of tax rises and public spending cutbacks.
Sinn Féin has increased its vote right across the Republic, but particularly in big urban areas like Cork city and Dublin.
And while its share of the vote - 16.8% - was not as high as the 20% or so that some polls had predicted, the party can be very happy, especially as the results comes less than a month after leader Gerry Adams' arrest.
Among those elected in Dublin was Chris Andrews, a former Fianna Fáil TD.
With counting in the Republic's European elections due to begin on Sunday, the party believes its candidates will be elected in all three Euro constituencies.
Independents' Day
But the real winners are the Independents, with 27.9% share of the vote.
Many are talking of it as Independents' Day.
Both government parties have seen their share of the vote fall by more than 10%, which is especially bad news for Labour.
The Labour Minister for Public Expenditure, Brendan Howlin, has said his party is suffering for taking tough, but necessary, decisions and that it would have made no difference who was leader.
Another Labour cabinet minister, Pat Rabbitte, said had John the Baptist, rather than Eamon Gilmore, been the party's leader it would have made no difference.
That was, perhaps, an unfortunate turn of phrase, given that John the Baptist lost his head. To date, though, no senior figure in the party has called for Mr Gilmore's head.
So much attention has been focused on Labour's woes, that Fine Gael's relatively poor performance has gone largely un-commented upon.
The party's Transport Minister, Leo Varadkar, has suggested that the choice for the electorate in the general election is a choice between a Fine Gael-led government and a Sinn Féin-led coalition.
That's not quite how Fianna Fáil sees matters.
Fianna Fáil, so long the party of government until the economic crash, is having a better day than some predicted.
But it still has a long way to go, especially in Dublin where it has no TD, to become credible to enough voters to allow it to be the major party in any future government.
Olympian misses out
On a lighter note, Fine Gael's candidate in the Dublin West by-election was Senator Eamonn Coghlan, a former 5,000m world athletics champion.
He finished fourth in two Olympics Games, missing out on a medal.
But in the by-election he finished… fifth.