Czechs underwhelmed by European vote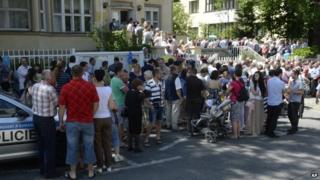 The Czech media has been awash this weekend with images of enormous queues of people waiting patiently to vote in Prague.
But they were members of the city's sizeable Ukrainian community, braving the scorching sun in front of the Ukrainian Embassy to cast their vote in the presidential election.
Czechs themselves seemed wholly underwhelmed by Europe's exercise in democracy; just 18.2% bothered to vote, the second worst result after Slovakia. Why?
Well, for all the usual reasons - little interest or confidence in European institutions, a sense the European Parliament has little impact on their daily lives, and also perhaps a dose of election fatigue; Czechs voted twice last year, in presidential and early parliamentary elections.
The big surprises to emerge from the result? Nothing earth-shattering. Centre-right newcomer ANO, created by the billionaire Slovak food and fertiliser magnate Andrej Babis, cemented its astonishing political fortunes of last year.
Babis only started the movement in 2011; he's now finance minister, controls the country's two main daily newspapers, and his party has just won four seats in the European Parliament.
One fringe Eurosceptic party - the Free Citizens Party - are celebrating after winning a historic first seat. Another - Dawn of Direct Democracy (founded by a half-Czech, half-Japanese businessman) - fell short of expectations.
And the Greens - ever the bridesmaids - must be wondering what went wrong, yet again. After unquestionably winning the Facebook vote, they were overshadowed even by the Pirate Party. The Pirates, with 4.78%, fell agonisingly short of a seat.