Ukraine vote: A turning point, or business as usual?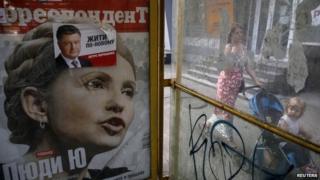 Ukrainian media see the outcome of the country's presidential election as a turning point.
Petro Poroshenko, who has claimed victory, must now deliver on the trust placed in him, says one commentator.
Russian media are downbeat about the prospects for peace under the new leader. A state-owned daily says the election outcome was decided in Washington.
Social media commentators mock Russia's claim that Ukraine is overrun by extremists, pointing to the small number of votes cast for far-right candidates.
Ukraine "reborn"?
"Has Ukraine been reborn?" asks the Ukrainian edition of Komsomolskaya Pravda. It says the election "will have a special place in the history books". But the paper notes that Crimeans did not vote and the voting in Donbass and Luhansk - formerly Ukraine's "electoral core", proceeded with "great difficulty".
"We have survived," proclaims popular Ukrainian daily Segodnya. But pro-Russian commentator Oles Buzyna cautions that "whoever wins this election will not inherit a pleasing legacy... The fifth president will be the head of a completely different Ukraine".
Pro-Russian Ukrainian daily Vesti dubs Mr Poroshenko "Peter the Great". Ukrainians are weary of conflict, analyst Taras Berezovets tells the paper. "This is why everyone wanted the election over as soon as possible, and voted not for policies, but for the candidate with the highest ratings."
"Ukrainian society has invested a great deal of trust in Petro Poroshenko, which he absolutely must live up to," says Sonya Koshkina on Levyy Bereg news website. "The country which has been wounded by Maydan and external threats will accept nothing less."
"A way out of a hole"
There is little prospect for a "new, happy, good and peaceful life" in Ukraine, especially given the West's influence, says Mikhail Rostovskiy in popular Russian daily Moskovskiy Komsomolets. But he concedes that the poll is a positive step. "If there is no easy way out of a hole, it doesn't mean that an attempt should not be made to get out of it."
The West is wrong to think Ukraine's new president can bring stability, analyst Gleb Pavlovskiy tells Moskovskiy Komsomolets. "The Ukrainian government is in a vacuum - society is not ready to consolidate around it in order to stop the escalation of chaos and violence."
"Nothing will change in Donetsk or Luhansk," analyst Dmitriy Oreshkin tells business daily Kommersant. But he says the poll has shown that Ukraine "can still hold itself together as a nation".
The support for Mr Poroshenko shows a "growing public demand for compromise", says liberal-leaning RBK Daily. The paper says his success can be attributed to disappointment with the former leadership and Mr Poroshenko's "restrained rhetoric".
Yevgeniy Shestakov in state-owned daily Rossiyskaya Gazeta is cynical. Ukrainians had "no choice" in the poll, he says. Voters were not choosing between the West and Russia, because "the choice had already been made for them in Washington".
'The horrible Right Sector'
Claims in the Russian media that Ukraine is overrun by extremists and neo-Nazis are ridiculed by some social media commentators. The two right-wing candidates - Dmytro Yarosh and Oleh Tyahnybok - polled less than 2% in total.
Prominent Ukrainian journalist Mustafa Nayyem proclaims an "epic fail" of Russian propaganda. "Vladimir Putin won't sleep tonight," he predicts.
"The great and horrible Right Sector polled 0.9% in the presidential elections!" says well-known Russian blogger Ilya Varlanov.
Ukrainian journalist Vitaliy Umanets is withering about Russian TV's emphasis on the far-right. "I realise that Russia's Goebbels TV can do miracles. But how are they going to explain to their avid viewers why 'fascists' Tyahnybok and Yarosh only polled 2.2% between the two of them in 'fascist' Ukraine?"
BBC Monitoring reports and analyses news from TV, radio, web and print media around the world. For more reports from BBC Monitoring, click here. You can follow BBC Monitoring on Twitter and Facebook.