Eamon Gilmore: Tánaiste stands down as Labour Party leader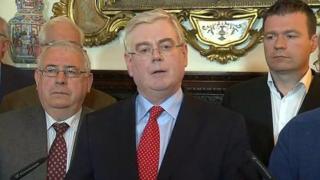 The Tánaiste (deputy prime minister) in the Republic of Ireland, Eamon Gilmore, has announced he is standing down as leader of the Irish Labour Party.
Mr Gilmore said he would do so, once a successor had been appointed. Those nominations open on Tuesday evening.
He will remain in his role as Tánaiste until a new leader is appointed on 4 July.
The Irish Labour Party suffered disastrous results in both the local and European elections.
Labour are the junior party in Ireland's coalition government.
Mr Gilmore told journalists at a press conference in Dublin on Monday afternoon that he had thought about it over the weekend and "agonised" over the decision.
"I decided last night (Sunday) that the party would be best served by having a new leader," he said.
"I intend to remain involved and active in politics. It is my intention to seek re-election in my constituency of Dún Laoghaire at the next general election."
He said the Labour Party in 2011, following its most successful ever general election, had taken a "political risk" by entering into a coalition government with Fine Gael.
"I asked the party to take on the responsibility of government during the worst economic crisis in the history of the state," he said.
"I did so because I believed then, as I do now, that as citizens and as a party, we had a duty to put the country first - to address the crisis, to get out of the bail-out, to revert the loss of employment, to get the economy to recover and to do so in as fair and just a manner as humanely possible."
'Political risk'
Mr Gilmore, who is also Minister for Foreign Affairs, said he still believed that it was the "right decision".
"I am proud of the progress we have made in achieving those objectives, but it was a course that carried a high political risk and Labour has paid the price for that in the local and European elections."
He said as party leader he had to "take responsibility for what happened on Friday".
Labour secured 19% of the vote in the 2011 general election - their share fell to 7% in the local and European elections.
Mr Gilmore was facing a no confidence motion from seven of his party TDs (Irish MPs) following their poor performance at the polls.
The motion was tabled for a parliamentary party meeting - a same motion was also due to go before Labour's central council.
Thanks
Mr Gilmore said he had informed Labour's general secretary of his decision on Monday morning.
He also met with his ministers on Monday to discuss the results.
Mr Gilmore said the party and the government must now "move on to a new phase and look to the future".
Following his announcement, he thanked Labour members for their support on Twitter.
Taoiseach (Irish prime minister) Enda Kenny thanked Mr Gilmore and Labour for their "[courage] in making the collective decisions that have pulled Ireland back from the brink of economic collapse and put the country on the path towards recovery".
He said Mr Gilmore had been pivotal in restoring Ireland's international reputation.
Sinn Féin President Gerry Adams said while it was obviously a difficult day for Mr Gilmore and his family, "this is not about personalities, it's about policies.
'Integrity'
"Quite clearly the voters have rejected the policies of this government," he said.
Ivan Lewis, shadow secretary of state for Northern Ireland described Mr Gilmore as a man of "great decency and integrity".
"His resignation will not only be a blow to the Irish Labour Party, but the people of Ireland," he said.
"I hope he will continue to make a significant contribution to centre-left politics in Europe and across the world."
SDLP leader Alasdair McDonnell told BBC Radio Ulster's Talkback programme he would be saddened if he resigned.
"He has made big efforts to support progress here and he'll be missed in that role," he said.
Sinn Féin's Conor Murphy said it would be "hugely significant" if Mr Gilmore did resign. He said they had a disastrous election.