Polish FM nominated for top EU foreign policy role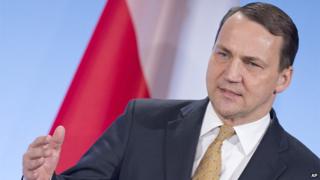 Poland has confirmed that it will nominate its Foreign Minister Radoslaw Sikorski to replace Catherine Ashton as EU foreign policy chief.
The 51-year old has been an outspoken critic of Russian foreign policy
Britain's Catherine Ashton has held the post for five years, but has ruled out standing for a second term.
There will also be new presidents for the European Commission and European Council after EU-wide elections were held last week.
Poland's Prime Minister Donald Tusk said Mr Sikorski would be a "natural candidate".
"I will say it openly: Poland has gained such significant influence in foreign policy, that the so-called high representative would be within the scope of our interests" he said.
The role, officially the High Representative for Foreign Affairs and Security Policy, is seen as that of the EU's "foreign minister".
The European Council will vote on the appointment in July, but MEPs will have to confirm the appointment in September.
Two of the EU's other most high-profile officials - EU Commission President Jose Manuel Barroso and European Council President Herman Van Rompuy - are also finishing their five-year terms.
Visible figure
As Polish foreign minister, Mr Sikorski has argued for a more robust European response to Russian military intervention in Georgia and Ukraine.
He was a leading figure in the international diplomatic response to the Ukraine crisis earlier this year.
Together with the German and French foreign ministers, he helped broker a peace deal in the final days of Viktor Yanuokvych's presidency.
Before serving as foreign minister he was defence minister of Poland for two years.
He was granted political asylum in Britain when Poland was under communist rule. He was educated at Oxford University before working for several years as a journalist.
He won the World Press Photo award in 1987 for an image of an Afghan family killed by the Soviet-trained Afghan Air Force.