Obituary: Major General Serhiy Kulchytsky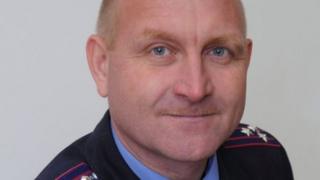 Major General Serhiy Kulchytsky, who led the combat training department in Ukraine's National Guard, was among more than a dozen people killed when pro-Russian separatists shot down a military helicopter near the eastern Ukrainian town of Sloviansk.
The attack has been described as one of the worst setbacks for Ukraine's government forces since they began an offensive against the rebels in April.
Gen Kulchytsky was appointed head of the military and special training directorate at Ukraine's National Guard after President Viktor Yanukovych was ousted in February 2014.
He had been promoted to the rank of major-general by Mr Yanukovych six months earlier.
Born on 17 December 1963 in Weimar, in the former German Democratic Republic (DDR), Gen Kulchytsky had a military upbringing.
His father served with the Soviet forces stationed in the region.
He graduated from the Ussuriysk military college in the Soviet Far East in 1981 and went on to train at the Far Eastern Higher Military Command School in the city of Blagoveshchensk, attaining a distinction in 1985.
His military career began with the role of marine platoon commander at the Soviet Northern Fleet in the northern Murmansk region.
Heavy fighting
After Ukraine became an independent state, Gen Kulchytsky moved to the west of the country and became deputy commander of a National Guard battalion in Ternopil in 1992.
Moving up the ranks, he became the battalion's commander in 1994.
And in 2010 he was appointed deputy commander of the Western Command of the Ukrainian Interior Ministry's troops.
Gen Kulchytsky was married with a son.
He was travelling with soldiers to a base near Sloviansk when their helicopter was shot down.
Heavy fighting had been taking place between government forces and pro-Russian separatists in the area, which came under rebel control early in the uprising.
Pro-Russian separatists in the regions of Donetsk and Luhansk declared independence after referendums on 11 May, which were not recognised by Kiev or its Western allies.