Wojciech Jaruzelski funeral held in Poland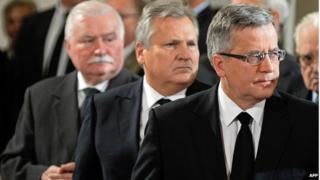 Current and former Polish leaders have attended the funeral of the country's last communist leader, despite protests outside the cathedral.
General Wojciech Jaruzelski died on Sunday, at the age of 90.
His decision in 1981 to impose martial law in Poland is still divisive.
The protesters were angry at the decision to bury General Jaruzelski at one of the city's most historic cemeteries, saying he was a traitor who had blood on his hands.
General Jaruzelski brought in martial law to crush the pro-democracy Solidarity movement.
The former leader of Solidarity, Lech Walesa, attended the funeral service, as did current President Bronislaw Komorowski, but Prime Minister Donald Tusk decided to stay away.
Divisive legacy
When Gen Jaruzelski imposed martial law, thousands of people were arrested and dozens killed.
Gen Jaruzelski lifted the decree two years later. There was growing unrest in the country and a series of strikes forced him to begin negotiations with Solidarity in 1989.
The following year the Communist Party was dissolved and he resigned as president.
The general later insisted that he chose martial law as the lesser evil because it saved Poland from a potentially bloody Soviet invasion. Many Poles, though, disagree.
His death, at the age of 90, has re-ignited divisions over the past, with some people wanting him buried with full military honours and others objecting to any state involvement.
President Komorowski spoke at the service, calling Gen Jaruzelski "a man who carried the burden of responsibility for the most difficult and probably the most dramatic decision in Poland's history after World War II.''
The president praised him for allowing a peaceful political transition "that brought fruit in the form of our freedom and independence".
But outside, protesters held up signs calling Gen Jaruzelski a ``traitor to the nation" and a "murderer".