Website hit in Serbia plagiarism row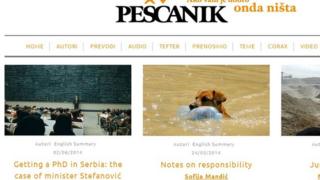 Serbia's prime minister has insisted the government played no part in an attack on a website which had said part of a minister's PhD was plagiarised.
Pescanik.net (Hourglass) published a piece by three British-based academics critical of Interior Minister Nebojsa Stefanovic's thesis.
Hours later, the site went down.
PM Aleksandar Vucic ridiculed the allegations against his colleague, but said an investigation would take place into the attack on the website.
"This is the most ridiculous thing I have ever read," Mr Vucic said of the article on Tuesday.
Mr Stefanovic has denied any wrongdoing in his PhD, received last year from Belgrade's private Megatrend University. Both he and Mr Vucic are members of the ruling Serbian Progressive Party (SNS).
The prime minister, when asked if his colleague should resign if the allegations were proven, said: "In that case Nebojsa will certainly know what to do."
The Pescanik site went down late on Sunday after a series of denial-of-service attacks (DoS), in which large amounts of data are forced on a target, causing it to fall over.
Mr Vucic said the attacks came from two IP addresses and he rejected claims of state involvement.
Serbia's government has been criticised by the Organization for Security and Co-operation in Europe (OSCE) for recent online censorship and the group said the "blocking of online resources" had continued with the attack on Pescanik.
The OSCE pointed to the recent removal of online content seen as critical of the Serbian government's response to flooding in which 51 people died. Serbia's human rights ombudsman has also warned of an "organised effort aimed at stifling criticism".
Mr Vucic, during a conversation with the OSCE, said "censorship must not be allowed" and the Serbian government would "take all measures to prevent it", Tanjug news agency reported.