Schools exams get under way in Republic of Ireland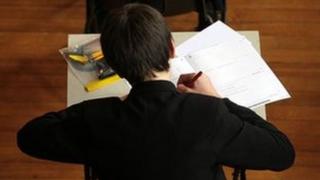 More than 110,000 students in the Republic of Ireland have begun their Leaving Certificate and Junior Certificate exams.
About 55,000 students are sitting the Leaving Certificate exam over the coming weeks.
A further 60,000 are taking their first Junior Certificate examination papers.
Minister Ruairí Quinn wished those taking exams 'luck'. He said although they were an important milestone, they were not the only route ahead.
He said they were just one of a number of opportunities for education and training available to young people.
Junior Certificate exams are usually taken mid-way through the Republic's post-primary school system, when pupils are about 15.
The Leaving Certificate is the final set of post-primary exams for school leavers and is taken when students are typically 17 or 18.