Russian media rebuffs warnings from the West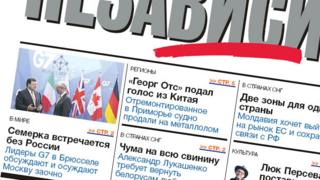 The Russian media strikes a defiant tone on the state of relations with the West during the G7 summit in Brussels - the first since Moscow's expulsion from the former G8 in March.
As G7 leaders warn that they are prepared to inflict further sanctions on Moscow for its behaviour in Ukraine, the TV and press are downplaying President Putin's apparent ostracism.
A senior diplomat on state-run TV has denied that Russia was ever expelled from the G8.
Moscow's permanent representative to the European Union, Vladimir Chizhov, brushed off the idea that Russia was being excluded.
"The convening of the current summit in Brussels is the result of a decision taken by seven of the eight members of the G8 to suspend their participation. In other words, they were the ones who left the G8 format, not Russia," he told Rossiya 24 TV on the eve of the summit.
Russia's presence will be missed, especially since it is one of the main topics of discussion, said a TV commentator from Rossiya 1 channel: "They meet without Russia, but discuss mostly Moscow. Probably, they miss it."
Commentator Yevgeniy Grigoryev, writing in the centrist daily Nezavisimaya Gazeta, says that the "policy of international ostracism of Russia and isolation of its president" has proved "ineffective".
"US attempts to talk Paris out of inviting Russia to the anniversary of the Allies' landing failed. The French simply could not allow this to be done to the country that sustained the biggest casualties in the fight against Nazi Germany."
He adds that Europe's leading players are jumping at the chance to have a personal meeting with President Vladimir Putin at the commemorative programme in France, rather than avoiding him.
A commentator in state-owned daily Rossiyskaya Gazeta blames the United States for stirring up animosity between Russia and the rest of Europe.
"Visits to Ukraine by high-ranking US emissaries have displayed Washington's hidden desire to maintain the conflict, which has day by day been destroying Ukraine and involuntarily drawing Russia into a confrontation with Europe," Yevgeniy Shestakov writes in an article headlined "Kiev loses ability to speak".
A chance to talk
However, there is much speculation that the D-Day ceremony will provide an opportunity for President Barack Obama and Mr Putin to meet face-to-face. Commentator Melor Sturua in the popular daily Moskovskiy Komsomolets writes: "It seems to me that Obama has come to Europe not so much to talk to Nato politicians as for a 'chance meeting' with Putin... It is quite obvious that he is looking for this chance to talk to Putin, not to cry 'down with Russia' to his face."
In a separate article, writer Renat Abdullin says it is not surprising that relations are so volatile. "In a big geopolitical game, Ukraine is very important for Russia and the USA. And whether Ukrainians like it or not, it is through their country that a dividing line between the security systems of two big and powerful countries now runs."
BBC Monitoring reports and analyses news from TV, radio, web and print media around the world. For more reports from BBC Monitoring, click here. You can follow BBC Monitoring on Twitter and Facebook.