Obama warns France on Russia Mistral ship deal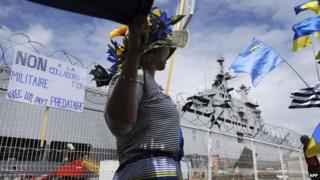 President Barack Obama has said he has told France of his concerns about the sale of two warships to Russia in the light of the crisis in Ukraine.
The first carrier is due for delivery this year in a 1.2bn euro (£1bn; $1.6bn) deal signed in 2011.
Mr Obama said while he recognised it was a big deal and important for French jobs, "I think it would have been preferable to press the pause button".
Paris says it will not halt the deal unless further EU sanctions are agreed.
A foreign ministry spokesman said a contract had been signed and had to be honoured.
Russian President Vladimir Putin, who is among some 18 international leaders taking part in D-Day landings commemorations in France, has said he expects Paris to go through with the warship deal.
"We're open, I would say even ready eventually, to signing new orders if our French partners wish to carry on this co-operation," he told French TV.
But President Francois Hollande has come under sustained pressure from European allies over the Mistral-class helicopter carriers which are set to be delivered to the Black Sea ports in Crimea, annexed by Russia in March.
Polish Foreign Minister Radek Sikorski has also called on France to cancel the deal because "Russian generals have already said what these ships will be used for: to threaten Russia's neighbours in the Black Sea and that means Europe's partners."
One of the ships is called the Sevastopol, named after the Russian port in Crimea. French media describe the Mistral-class carriers as the "pride of the navy" and Russia's navy chief has described them as significantly enhancing its combat potential.
Although sanctions and asset freezes have been imposed on Russia by the European Union, US and others since the annexation of Crimea, further measures are being considered.