Two Kurds die in protest over new Turkish army posts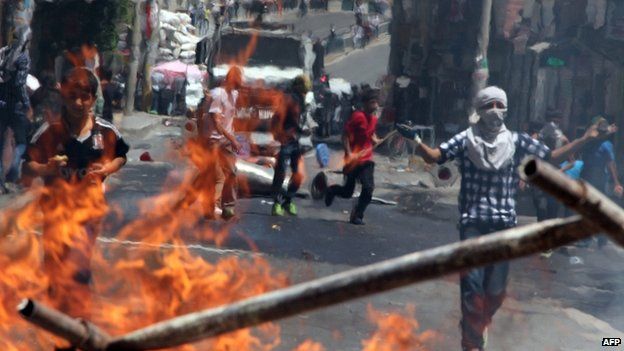 Two Kurdish protesters have died from gunshot wounds sustained in clashes with government soldiers in south-eastern Turkey.
They were demonstrating against government plans to build new military barracks in Diyarbakir province.
A crowd of demonstrators threw petrol bombs at security forces. The sides accuse each other of opening fire.
Building new army posts in majority-Kurdish areas is seen by many as a threat to the peace process.
It began in 2012 in an attempt to end a 30-year insurgency by Kurdish rebels of the PKK which has claimed at least 40,000 lives.
The protests against the new military posts have intensified in the last couple of weeks.
They also come just ahead of a critical presidential election, which Prime Minister Recep Tayyip Erdogan is widely expected to contest.
Support from the Kurdish minority - some 20% of the Turkish population - could be key to his chances of success, observers say.
In the clashes at Lice on Saturday, two men aged 24 and 50 were killed, AFP news agency said.
Several hundred people took part in a demonstration in which petrol bombs and stones were thrown at the security forces.
The security forces said they responded after they were attacked with live ammunition.
Tensions remained high in the south-east on Sunday. Dozens of people demonstrated after the funeral of one of those killed.
Protesters claim the construction of hundreds of heavily fortified army posts shows that the government is not sincere in its efforts to reach a peace deal with the PKK, says Guney Yildiz of BBC Turkish.
They see the government as investing heavily in war while negotiating for peace as there is no other use for these posts apart from fighting the PKK, he says.