Ukraine crisis: Fighting in the east 'must end this week'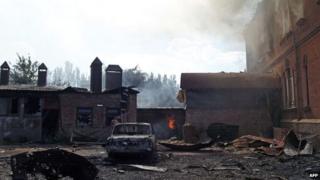 Deadly fighting in eastern Ukraine must end "this week", Ukraine's new President Petro Poroshenko has pledged.
He was speaking at talks involving an envoy from the Organization for Security and Co-operation in Europe and Russia's ambassador to Ukraine.
Meanwhile, fighting has continued in and around the rebel-held city of Sloviansk.
Kiev and the West accuse Russia of supporting separatists in the east - a claim denied by Moscow.
In a separate development, officials from Ukraine, Russia and the European Union are due to meet in Brussels to discuss Kiev's huge gas debt to Moscow.
Russia has threatened to cut its gas supplies to Ukraine, if no solution is found. This potentially could disrupt supplies to the EU, as about 15% of Europe's gas from Russia transits through Ukraine.
Crisis meetings
"We must stop the gunfire this week," Mr Poroshenko said in a statement, a day after his inauguration in Kiev.
"For me, every day that people die, every day that Ukraine pays such a high price is unacceptable."
He stressed that it was vital to "restore the Ukrainian border so that the safety of each Ukrainian citizen is guaranteed".
The president's comments came after the meeting with the special envoy from the Organization for Security and Co-operation in Europe (OSCE), Heidi Tagliavini, and the Russian ambassador to Kiev, Mikhail Zurabov.
Mr Poroshenko also suggested to hold daily meetings of the so-called trilateral "contact group" to try to achieve a peaceful settlement in the eastern Donetsk and Luhansk regions.
Meanwhile, fighting continued in Sloviansk on Sunday.
Gunfire was also reported in the town of Torez, with reports in Ukraine's media suggesting there were casualties.
Pro-Russian gunmen are continuing to hold a number of government buildings in the east, despite the ongoing "counter-terror operation" by Ukrainian government troops.
'Never surrender'
Mr Poroshenko was sworn in as president on Saturday, after winning the 25 May elections.
In his inauguration speech the 48-year-old tycoon offered political concessions to people in the east and said he did not want war or revenge.
He urged separatists in the east to lay down their arms, saying he would guarantee indemnity from criminal charges to all those who did not have blood on their hands.
But he also said he had told Russian President Vladimir Putin during a recent meeting that Crimea, which Moscow annexed in March, would "always be Ukrainian".
Some separatists dismissed the speech, saying they would "never surrender".
Mr Poroshenko succeeded Viktor Yanukovych, who fled in February after mass street protests in Kiev.