Don Quixote: Hunt for author Cervantes' remains narrows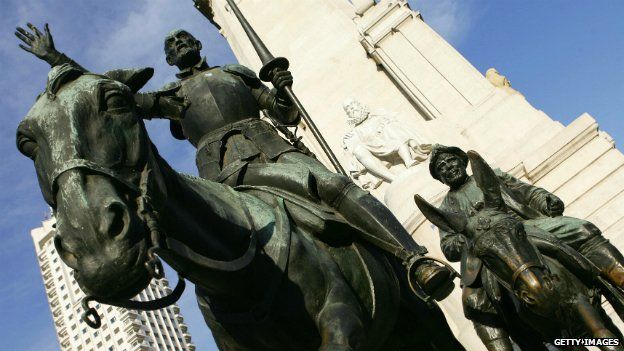 Forensic scientists looking for the body of Spanish writer Miguel de Cervantes say they have found five possible sites at a Madrid church.
The author of Don Quixote died in 1616 and is considered one of Spain's most important literary figures.
His burial was recorded at the Convent of Trinitarians in Spain's capital but the exact location is unknown.
Experts say the work of exhuming and analysing any findings is expected to take several months.
The search team, including historians, used infrared cameras, 3D scanners and ground-penetrating radar to pinpoint the possible sites.
"It is like a patient who is going to have surgery, doctors must take X-rays first," forensic anthropologist Francisco Exteberria told local press.
But he warned enthusiasts to contain their excitement for now, saying he did not want to "generate false hopes."
"We still have hope that if Cervantes' remains were not moved they have to be somewhere under this site," Mr Exteberria added.
If human bones are found, forensic scientists will rely on the author's specific physical characteristics as documented in portraits or his own stories to identify his remains.
Cervantes is recorded as having been shot three times during the Battle of Lepanto, a naval conflict in 1571 between an alliance led by Spain and the Ottoman fleet.
Two of the musket shots hit the writer's chest and the other hit his left hand, causing him to lose the use of it.
If Cervantes's remains are identified they will remain in the convent, which is still inhabited by nuns and has been designated part of Madrid's cultural heritage since 1921.
Historians say an official burial site at the church would attract a significant number of tourists and literary pilgrims to the city.
Born near Madrid in 1547, Cervantes has been dubbed the father of the modern novel for "The Ingenious Gentleman Don Quixote of La Mancha", published in two parts in 1605 and 1615.
The book is thought to be one of the most widely read and translated books on the planet.