Ukraine to create humanitarian corridors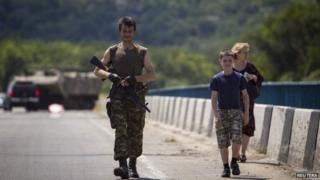 Ukraine's new President Petro Poroshenko has ordered the creation of humanitarian corridors so civilians can flee areas of the east hit by conflict.
Scores have died in recent fighting in the eastern Ukraine between government troops and pro-Russia militants who want to break away from Kiev.
Thousands of people are thought to have been displaced by the fighting.
Russian Foreign Minister Sergei Lavrov welcomed Mr Poroshenko's move, but said what was needed most was a ceasefire.
The government in Kiev says Moscow is backing the armed separatists in the east, an accusation that Russia denies.
At his inauguration on Saturday, Mr Poroshenko had promised he would provide safe passage for "Russian militants" out of Ukraine.
In a short statement on Tuesday, his office clarified this further, saying that "to avoid new victims in the zone of the anti-terrorist operation, the president has ordered the responsible ministers to bring about all necessary conditions for civilians who want to leave".
The government has also been ordered to provide transport, food and medical supplies for local officials to be able to handle the expected inflow of displaced people into other areas of Ukraine.
The move to create these corridors may allay concerns from human rights groups about Kiev's use of tanks and air power to suppress the pro-Russian militia.
But Mr Poroshenko has still not accepted the Kremlin's request to allow Russian aid into the east - a move that Kiev fears could be used to arm the rebels.
The violence is continuing in two eastern regions, Donetsk and Luhansk, where separatists have declared independence.
Pro-Russia gunmen are holding several government buildings, and Ukrainian troops are taking part in a "counter-terror operation".
Some of the worst attacks have been in and around the towns of Sloviansk and Kramatorsk.
After a meeting in the Russian city of St Petersburg on Tuesday with his Russian and Polish counterparts, German Foreign Minister Frank-Walter Steinmeier said there had been a "new atmosphere" in recent days, and that he could see "the light at the end of the tunnel".
But Mr Lavrov dismissed this, saying clashes were continuing and in some cases, "becoming even more intense".
He said that regardless of the varying views on the crisis, the focus must now be on an "unconditional and immediate ceasefire" and productive dialogue.
Mr Steinmeier also called on Russia and Ukraine to co-operate more closely on controlling their shared borders.
Mr Poroshenko has called for daily meetings on the situation in the east, involving representatives from Kiev, Moscow and the Organization for Security and Co-operation in Europe (OSCE).
The fighting is concentrated in regions which have extensive trade and cultural ties with Russia.
The countries are also locked in a dispute over gas supplies, with Russia saying Ukraine owes it almost $2.5bn (£1.6bn) in backdated payments.
Russia vastly increased its prices after the uprising which ousted Ukraine's pro-Moscow government earlier this year, and Kiev has so far refused to pay the full amount in protest.
Russia had given Ukraine a deadline of Tuesday to pay some of its debts or face being cut off, a move which potentially could disrupt supplies to the EU, as about 15% of Europe's gas from Russia transits through Ukraine.
Talks between officials from both countries were due to begin in Brussels on Tuesday evening, but have been postponed by a day because of the late arrival of the Russians.
Are you in Ukraine? Will you benefit from the humanitarian corridors? Please send us your comments. You can email us at haveyoursay@bbc.co.uk using the subject line 'Ukraine.