The art of the awkward photo opportunity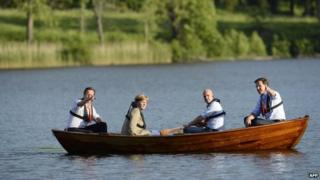 On Monday evening, Swedish Prime Minister Fredrik Reinfeldt took David Cameron, Angela Merkel and their Dutch counterpart Mark Rutte out for a spin in his boat at his summer home in Harpsund ahead of their mini-summit.
But even with life-jackets, this kind of staged photo opportunity is fraught with danger. What if they capsize? Or worse, end up having to do lots of wooden gesticulation?
Indeed, Twitter users made short work of the comic potential of the scene - from Vladimir Putin swimming towards them like a one-man armada, to David Cameron's end of the boat breaking off to, inevitably, the four of them sinking.
So why is that world leaders find themselves in these situations so often?
The answer lies in our changing expectations of what politicians should be like, says Stephen Coleman, professor of Political Communication at the University of Leeds.
In the past, their watchword was "authority" whereas now, it's "authenticity".
"Somehow they have to appear to be like ordinary people. So what they're trying to do is guess at what being normal looks like."
This leads to a sort of "rehearsed spontaneity", he says, which few politicians are able to pull off - with the odd exception, such as Bill Clinton.
But that doesn't stop them trying.
Some politicians cultivate reputations as mavericks, replete with a zany photo every now and again. Former Japanese Prime Minister Junichiro Koizumi was a prime example, on one occasion posing on a Segway.
But Mr Koizumi looks as though he may actually be enjoying himself, which is not always the case.
But isn't even an embarrassing photo opportunity better than yet another drab photo of men in suits?
Mr Coleman says that perhaps leaders sometimes try to liven up their images in the wrong way.
The problem with the "fun" photo op is that "what's going through their mind is always: 'What am I going to look like?'," he says.
An alternative to the more cliched images would be ones where politicians appear to be showing genuine emotion or engagement, Mr Coleman says, such as the now iconic photo of President Obama and his national security team receiving updates on the killing of Osama Bin Laden.
But even an attempt at similar gravitas can fall flat with some people - witness the lampooning of David Cameron's photo of himself on the phone to Barack Obama.
In the meantime, enforced diplomatic jollity will carry on regardless, perhaps reaching its apex at the Asian Pacific Economic Cooperation (APEC) summit.
Each event features leaders posing for a photo in appropriate regional dress - often the highlight of the entire event for the bored reporter corps.
There follows a small selection of highlights from over the years.