France National Front rift widens in 'anti-Semitism' row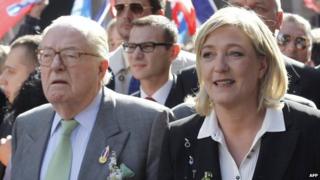 The founder of France's far-right National Front (FN) party has hit out at his daughter, the current leader, as a rift widens over a remark he made, which was condemned as anti-Semitic.
Jean-Marie Le Pen said he was "very hurt" after Marine Le Pen denounced what she called a "political error".
It comes after Mr Le Pen pledged in a video to make an "oven load" of his critics - including a Jewish singer.
The FN finished top in France in last month's European Parliament elections.
Correspondents say Marine Le Pen is trying to rid her party of its racist reputation as she looks for allies in the European Parliament.
The FN's website has stopped hosting a video blog produced by Mr Le Pen, amid outrage over his use of the word "fournee" - meaning "an oven batch of loaves" in a controversial video interview.
He made the comment when talking about French singer Patrick Bruel, who is Jewish.
Mr Le Pen - currently honorary president of the FN - has previous convictions for inciting racial hatred.
He was fined 1.2m francs (183,200 euros; £149,000) after calling the Nazi gas chambers "just a detail in the history of World War II" in 1996.
Later he was stripped of his parliamentary immunity as an MEP and fined in Germany for a similar comment judged to have minimised the Holocaust.
Critics see the statement about Bruel as a reference to Nazi death camp ovens in which Jews and other victims were cremated.
The video was taken off the FN's website and Ms Le Pen rebuked her father - the first time she has done so in public.
She said she was convinced his words had been maliciously misinterpreted but it was "a political mistake" for him not to have anticipated this happening.
'Stabbed in the back'
Mr Le Pen said there had been "no courtesy" in the handling of the affair in comments to French media on Tuesday.
"I can take direct hits to the face but not cowardly ones in the back," he said.
He told French magazine Inrocks he had been "stabbed in the back" and told French radio station RTL that no-one could withhold his freedom of expression.
"I have no intention of changing my attitude," he said.
He has previously argued that he did not know Bruel was Jewish.
The row comes at an important moment for Ms Le Pen, who lives in her father's mansion and whose party still depends on his funding, says the BBC's Christian Fraser in Paris.
She is currently negotiating with other hardline leaders with the aim of forming a political group that will have more influence in the EU.
National Front
1972: founded by Jean-Marie Le Pen
1983: First big election success in local poll
1986: Enters parliament
1980s: Gains votes from both nationalist right and hard left
2002: Le Pen comes shock second in presidential poll, beating Socialist candidate
2011: Marine Le Pen succeeds her father at head of the party
Key policies: Opposed to mass immigration and free trade; seeks exit from euro
2014: Wins European elections in France with almost 25% of the vote