Aer Lingus: Talks in Dublin to avert more strike action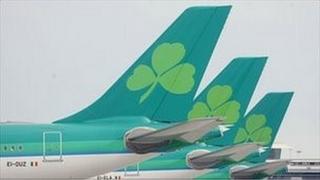 Talks aimed at averting more strike action by Aer Lingus staff are due to take place in Dublin on Wednesday.
Representatives from the airline and the IMPACT trade union will attend the negotiations in the Labour Court.
The strikes, over rosters, are set to take place next Monday and next Wednesday.
Last month, about 200 flights were affected by a day of industrial action, which was estimated to have cost the company about 10m euro (£8.1m).
Cabin crew took part in the one-day stoppage because of a dispute with the airline over work rosters and picketed Dublin, Cork and Shannon airports.
The strike did not affect Aer Lingus flights in Northern Ireland.
Management and cabin crew are locked in a dispute over working hours, with trade union Impact complaining that its members are being left exhausted by the current roster arrangements.
Aer Lingus has said its cabin crew enjoy some of the "most favourable working conditions in Ireland".
If an agreement cannot be reached, around 35,000 people could be affected each day by next week's strikes.