Doctors make way towards man trapped in German cave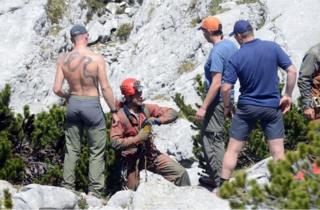 Two doctors are on their way to an injured man trapped in Germany's deepest cave to assess how he can be brought to safety, officials say.
Moving in two teams, they may reach Johann Westhauser, 52, within hours.
He was injured in the head and chest by a rock fall on Sunday in the 1,000m-deep (3,280ft) Riesending cave.
Rescue official Robert Nagel said the cave's vertical shafts and narrow passages meant it would take about six days to bring him out.
The alarm was raised by a companion of Mr Westhauser, who took about 12 hours to return to the surface while a third member of the party waited behind.
Rescuers have since managed to reach and speak to the injured man, finding him able to stand.
The Riesending cave - "massive thing" in German - is in the Unterberg mountain range, near Berchtesgaden in southern Germany.
Two teams
A team of three Swiss experts and an Austrian doctor entered the cave on Tuesday and had reached a level halfway down, known as Base station 3, by Tuesday morning.
A second, Italian team later also reached Base 3, Bavarian radio reports.
---
Bavaria's Riesending caves
Deepest and longest cave system in Germany - 19.2km long and 1,148m deep
Narrow tunnels reached only by abseiling down 300m
Lies on Austrian border, north of Berchtesgaden
Injured researcher reportedly helped discover caves in 1995
Mapping of cave system began in 2002
---
Cave rescuer Norbert Rosenberger told German media that rescuers could not get equipment in to reach the injured man.
The rescue operation was "like [climbing] the north face of the Eiger [mountain] - without boots or cables", he said.
Although Mr Westhauser was wearing headgear, he was not protected from the weight of the rock.
He was one of the researchers who discovered and help map the cave a few years ago.