Taxi and rail strikes hit European cities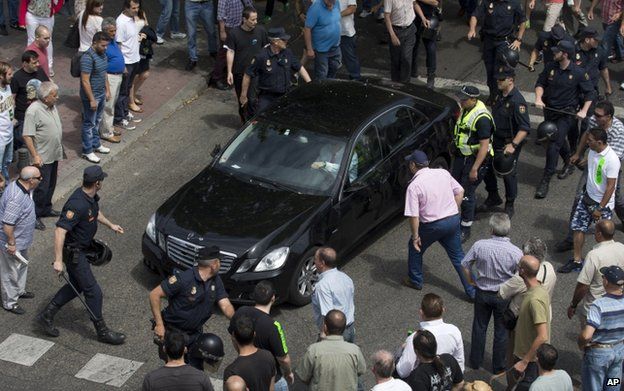 Transport in major European cities has been disrupted by strikes affecting taxis and rail services.
Taxi drivers blocked roads in Paris, Madrid, London, Milan, Berlin and other cities in protest against the rise of services booked using smartphone apps.
They say there has been a lack of regulation concerning rival mobile service Uber.
Travellers in France were also hit by a rail strike that stopped two-thirds of trains in some areas.
The biggest taxi associations in the Spanish capital asked their drivers to observe a 24-hour stoppage until 06:00 on Thursday. More than 15,000 licensed vehicles operate in Madrid, Spanish media say.
No taxis were visible at Barajas airport or Atocha station, reports said, despite Uber not yet being available in the capital. At one point, a car suspected of being a private taxi came under attack from demonstrators.
The strike was also observed in Barcelona, where the mobile app is in operation.
Drivers of London's famous black cabs demonstrated in Trafalgar Square, arguing that the Uber mobile app, which originated in the US, was tantamount to a taxi meter, which only black cabs are legally entitled to use in London.
"We're governed by a set of rules and they don't seem to apply to Uber," said Glenn Chapman, a driver parked in a long line of cabs outside Downing Street.
Uber argues it is complying with local regulations.
Transport for London estimated that about 4,000 drivers had taken part and roads were gridlocked around Parliament Square, Whitehall and Trafalgar Square.
In Milan, in northern Italy, a protest took place throughout Wednesday, although disruption was not on the same scale as elsewhere, with boycotts of key sites such as railway stations and squares. Cab drivers also staged demonstrations in Rome and Naples.
Protests also took place in several German cities, including Berlin and Hamburg.
But the worst of the disruption was in Paris, where train services were also badly affected by strike action.
Hundreds of drivers blocked the French capital's airports and staged a "go-slow" during the morning rush hour.
Only one in three trains was running in the Paris region, although Eurostar services were unaffected.
Unions are objecting to plans to merge the rail network operator with the train company SNCF. The company said some 28% of railway staff had walked out.
The strike is due to continue until Thursday evening, unless union representatives and the transport minister reach an agreement in talks late on Wednesday.