Bear Balou found dead in French Pyrenees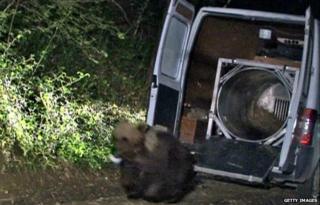 A brown bear introduced into the French Pyrenees from Slovenia in 2006 has been found dead.
Officials said 11-year-old Balou appeared to have suffered a fall in a steep, rocky area near Melles, in the Haute-Garonne department.
Balou was one of several Slovenian bears sent to France to replenish dwindling numbers after the last female bear was shot by a hunter.
He was sponsored by the French actors Fanny Ardant and Gerard Depardieu.
The local prefecture said the bear had been found in dangerous terrain and had suffered injuries to his back and one of his paws "consistent with a fall".
A post-mortem examination is to be held.
Native French Pyrenean brown bears were almost extinct in the 1990s and the first attempt to re-introduce them was in 1996 when three bears were brought from Slovenia.
Although the programme was strongly opposed by cattle and sheep farmers, another five - including Balou - were brought from Slovenia in 2006.
Slovenia, which has a thriving bear population, has helped to increase bear populations around Europe.
There are now believed to be about 20 brown bears in the region.
For some years another bear, Pyros, is thought to have been the only reproductive male in the region, with Balou travelling widely around the Pyrenees.
The last female bear native to the French Pyrenees region was shot by a hunter in 2004 and conservation groups have reacted with sadness to news of Balou's death.
"It's not good news. Balou was supposed to play his part in reproduction - and this will further jeopardise the bear population," said Alain Reynes of the Pays-de-l'ours group.
Pyros is now said to be aged 26 and responsible for almost all the bears born in the Pyrenees in recent years. Officials over the border in Spain are said to be considering neutering him after it emerged he was both the father and grandfather of a recently-born cub.