Sexual violence in war: Rape survivor speaks at summit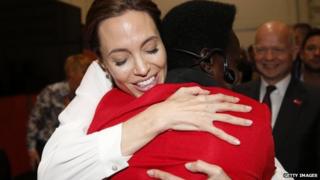 A woman kidnapped as a nine-year-old by Joseph Kony's Lord's Resistance Army (LRA) rebels has testified at a summit on ending sexual violence in war.
Esther Atim, now 20, described being captured by rebels in Uganda and being subjected to rape and forced labour.
Actress and UN special envoy Angelina Jolie and UK Foreign Secretary William Hague, who are co-hosting the London event, were among those present.
The summit is the result of an intense two-year campaign to raise awareness.
'Extraordinary woman'
Ms Atim described how she was taken from the village of Ojone, in north-eastern Uganda, in 2003.
She was forced to watch a man hacked to death in front of her and was then kept for three years across the border in Sudan, where she endured repeated rapes.
Eventually she made her escape under cover of darkness.
"I managed to sneak out, I started running, seriously, but I had no energy. I was seriously raped. I couldn't walk."
She waved her arms to her sides in a grim illustration of her condition: "My legs were like this. I could not run. I fell down. But I ran and ran and ran."
Following Ms Atim's testimony, Angelina Jolie told the BBC: "There's not one word to describe something like that. It's profound, it's very important, she's an extraordinary woman, she's so brave."
Speaking to the BBC after meeting the film star, Ms Atim said her visit to London was her first trip away from Uganda, where she has now joined an NGO working with vulnerable women in the north of the country.
The Global Summit on Sexual Violence in Conflict aims to:
launch an international protocol for documenting and investigating sexual violence in conflict, and encourage countries to strengthen domestic laws to enable prosecutions
urge countries to train all soldiers and peacekeepers to prevent sexual violence
increase funding to support survivors of sexual violence
change attitudes towards rape in conflict
The gathering is the largest of its kind. Nations taking part in the summit include Bosnia, the Democratic Republic of Congo and Somalia - countries where sexual violence has happened "on a vast scale", Mr Hague told the BBC on Tuesday.
Sexual violence was systematically being used as a weapon of war in the 21st Century, he added.
In the two years since Mr Hague and Ms Jolie launched their campaign, a Declaration of Commitment to End Sexual Violence in Conflict has been endorsed by 141 countries.