Germany cave: Trapped explorer 'well enough' for evacuation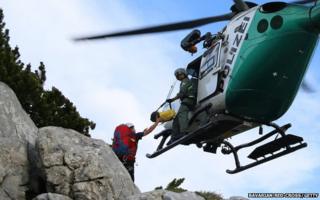 An injured man trapped in Germany's deepest cave is well enough for the rescue operation to begin, officials have said.
They said two doctors who earlier reached Johann Westhauser in the 1,000m-deep (3,280ft) Riesending cave had given a go ahead for the ascent.
The operation is likely to take several days, negotiating the cave's narrow passages and vertical shafts.
Mr Westhauser, 52, was badly hurt in a rock fall on Sunday.
'Massive thing'
Andreas Wolf, the head of the rescue operation, said on Thursday the two doctors were satisfied Mr Westhauser could be stretchered out.
Some 30 rescuers from Germany, Austria, Italy and Switzerland were taking part in the operation, he added.
The first doctor reached Mr Westhauser early on Wednesday evening, accompanied by a Swiss team of rescuers, and a second arrived during the night with an Italian group, German media report.
The news eventually came via a text message sent over a communication network installed by the rescue team.
The plan is to move Mr Westhauser gradually from base station to base station.
He suffered injuries to his head and chest during a weekend holiday trip with two other cave explorers in the early hours of Sunday. The alarm was raised by one of his two companions, who took about 12 hours to return to the surface, while the other waited behind.
The Riesending cave - "massive thing" in German - is in the Unterberg mountain range, near Berchtesgaden in southern Germany.
---
Bavaria's Riesending caves
Deepest and longest cave system in Germany - 19.2km long and 1,148m deep
Narrow tunnels reached only by abseiling down 300m
Lies on Austrian border, north of Berchtesgaden
Injured researcher reportedly helped discover caves in 1995
Mapping of cave system began in 2002
---
Cave rescuer Norbert Rosenberger had earlier spoken of the difficulty in getting equipment in to reach the injured man.
The rescue operation was "like [climbing] the north face of the Eiger [mountain] - without boots or cables", he said.
Although Mr Westhauser was wearing headgear, he was not protected from the weight of the rock.
He was one of the researchers who discovered and help map the cave a few years ago.