Berlusconi associate Dell'Utri deported from Lebanon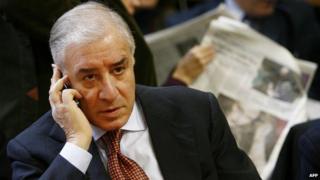 A former business ally of Italian ex-Prime Minister Silvio Berlusconi convicted of Mafia links has been extradited from Lebanon to Italy.
Marcello Dell'Utri, 72, was handed over to Italian police at Rome's Fiumicino airport on Friday.
He fled to Lebanon in April, shortly before Italy's Supreme Court upheld a seven-year jail term against him for Mafia links.
Dell'Utri was a manager in Berlusconi's media empire and close political ally.
He helped launch Berlusconi's conservative Forza Italia party in 1993, which soon went on to an election triumph.
He also served as a senator and his friendship with Berlusconi dates back to their student days.
Both men deny having had any dealings with the Mafia and Berlusconi has not been tried in connection with the affair.
Berlusconi, 77, is doing a year's community service after being stripped of his Senate seat and convicted of tax fraud.